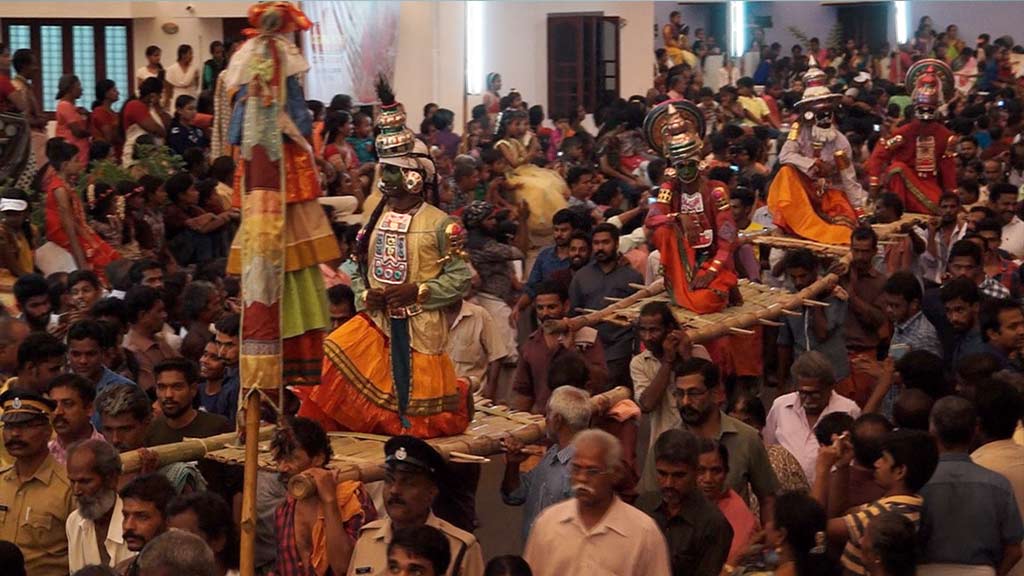 Venue: Chitturkavu Bhagavathy Temple
Location: Chittoor
District: Palakkad
The slopes of Palakkad annually pay homage and celebrate a great military victory with full pomp and glory. The victors were the Chittur Nairs (Nairs were the warrior community in Kerala), who won a famous battle over the militia of nearby Konganadu in 918 C.E. 101 rounds of the kathinavedi (iron pipe crackers) are fired on the third day of the Konganpada Festival to commemorate the victory.

The Bhagavathy Temple in Chittur plays host to these festivities annually. Mock fights are seen at night, where men wearing buffalo masks engage in tribute battles. There is also a famous kolam procession, where young boys dressed as girls, are carried on the shoulders of men in a beautiful marching sequence. The colours, history, and drama on display, come together in a production that rivals any other festivity around the planet.
Getting there
Nearest railway station:
Palakkad, about 11 km from Chittur
Nearest airport:
Coimbatore (in Tamilnadu State), about 55 km from Palakkad 
Disclaimer
In Kerala, festival dates are decided in accordance with the Malayalam calendar and the local traditions and customs. We have calculated the festival dates based on these. But there can be changes in the dates according the customs and rituals associated with each place of worship. As such, these should be considered only as approximate dates and have to be confirmed with the local authorities.