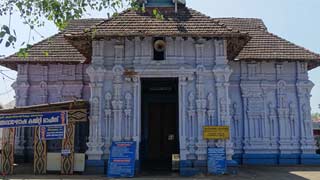 Venue: Koodalmanikyam Temple
Location: Irinjalakuda
District: Thrissur
Situated about 20 km from Thrissur town is the Koodalmanikyam temple, dedicated to Lord Bharatha, the brother of Lord Rama in the epic Ramayana. It is perhaps the only temple in India with Bharatha as the presiding deity.

The colourful eleven-day annual festival at the Koodalmanikyam temple is noted for the grand elephant pageantry. The festival falls in during April or May.
Getting there
Nearest railway station:
Irinjalakuda is about 10 km and Thrissur (Major Station of southern Railway) is about 22 km are the nearest railway stations.
Nearest airport:
Cochin International Airpor is about 37 km via Salem Kanyakumari Hwy.
Disclaimer
In Kerala, festival dates are decided in accordance with the Malayalam calendar and the local traditions and customs. We have calculated the festival dates based on these. But there can be changes in the dates according the customs and rituals associated with each place of worship. As such, these should be considered only as approximate dates and have to be confirmed with the local authorities.