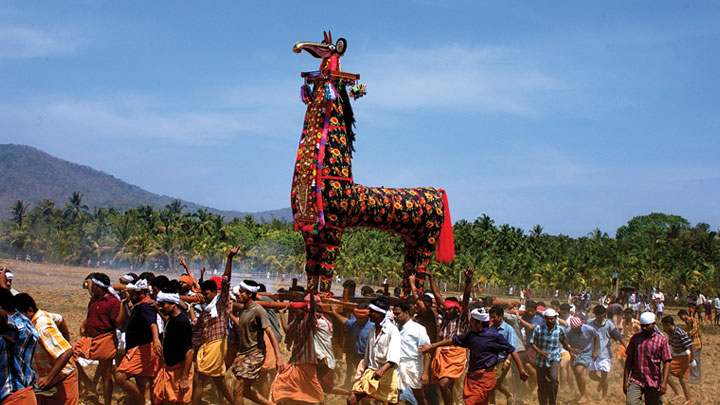 Venue: Machattu Thiruvanikavu Temple
District: Thrissur
Have you ever seen a horse effigy (Kuthirakolam)?
Come witness the Machattu Mamangam to be amazed!
Kuthirakolams are elegantly decorated effigies of horses that are taken out in a grand procession. This is a major highlight of this unique five-day festival celebrated at the Machattu Thiruvanikkavu temple dedicated to Goddess Bhagavathi.
The Kuthirakolams are a part of the main procession on the concluding day. The effigies are welcomed in a riot of colours, splendour, cheers and applauses. Chendamelam (traditional percussion music) converge at the temple courtyard in the evening, unfolding an extravagant spectacle. Various cultural programmes are also held on the festival days.
Machattu Mamangam or Machattuvela festival is not just a temple festival. Rather it is a part of the identity the locals of the region proudly bear.
The festival is staged at the Machattu Thiruvanikavu Temple located at Vadakkancherry in Thrissur district.
Disclaimer
In Kerala, festival dates are decided in accordance with the Malayalam calendar and the local traditions and customs. We have calculated the festival dates based on these. But there can be changes in the dates according the customs and rituals associated with each place of worship. As such, these should be considered only as approximate dates and have to be confirmed with the local authorities.