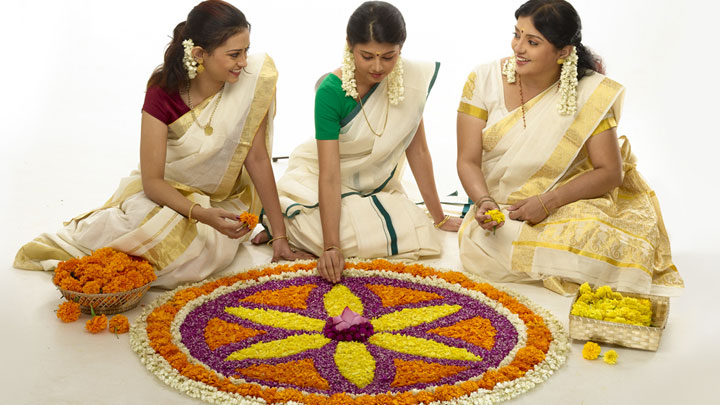 All over Kerala
Onam, a celebration of equality, justice and prosperity, is the State festival which unites all Keralites irrespective of caste, colour or creed and is celebrated in Kerala with pomp and grandeur. The whole state joins in the fervour to celebrate the return of the King Mahabali to meet his 'prajas' (subjects). Legend has it that every year, King Mahabali, the righteous king visits the land from the nether world and Keralites unite in festivities to welcome the return of the mythical King Mahabali.
The whole of Kerala is splashed with vibrance during this season. The ten days of Onam commences on Atham day and goes up to the Thiruvonam day in the Malayalam month of Chingam (August / September). Thiruvonam is the most important day of Onam which is also the harvest festival.
Starting from Atham, the front yards of houses, offices and other public places are decked in floral arrangements called Athapookkalam to welcome in their king. Every nook and cranny of the state brims with games and the display of traditional art forms.
The week long festivities reach a crescendo on Thiruvonam day, the most auspicious day during the Onam festival. New clothes, referred to as Onakkodi are handed out, the special Onasadhya (traditional feast) comprising a minimum of 11 dishes are laid out and people savour in the delicious delicacies and top it up by indulging in traditional games and art forms. Music and dance in the form of Thiruvathira (a traditional dance form) and the Vallamkali (boat race) make the festival unique. The boat race held in Aranmula during the Onam festival is one of a kind where oarsmen row huge snake boats to the accompaniment of songs on the banks of the river Pamba. Onam, the harvest festival of Kerala, is a celebration of the heart and a feast to the senses.
Disclaimer
In Kerala, festival dates are decided in accordance with the Malayalam calendar and the local traditions and customs. We have calculated the festival dates based on these. But there can be changes in the dates according the customs and rituals associated with each place of worship. As such, these should be considered only as approximate dates and have to be confirmed with the local authorities.