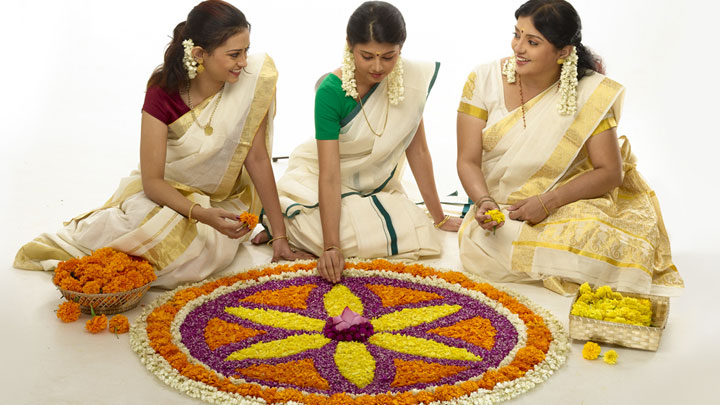 All over Kerala
Onam is God's Own Country's most joyous and vibrant festival, a celebration of equality, justice and prosperity, which brings together Keralites from across the world. It goes beyond the human assumptions of caste, colour or creed, and one sees a diverse array of decorations go up in buildings, streets and monuments. On this day, King Mahabali, the righteous king of yore, is said to visit each household and ensure that the inhabitants are in good health. The ten days of Onam commence on Atham day and goes up to the auspicious day of Thiruvonam in the Malayalam month of Chingam (August / September).

This is the time when one gets to see Athapookkalam (floral arrangements), massive cultural programmes and floats, Onasadhya (traditional vegetarian feast), new clothes and gifts being purchased, and an overall sense of revelry take over the hearts and minds of all citizens. Presents are exchanged and people use this time to catch up on some well-deserved family time. One can also witness unique events like the Thiruvathira (a traditional dance form) and the Vallamkali (boat race) during this time period as well. Our very own harvest festival reaches its apex on the 10th day of Thiruvonam, and Keralites bid adieu to their most sacred and precious of festivals.
Disclaimer
In Kerala, festival dates are decided in accordance with the Malayalam calendar and the local traditions and customs. We have calculated the festival dates based on these. But there can be changes in the dates according the customs and rituals associated with each place of worship. As such, these should be considered only as approximate dates and have to be confirmed with the local authorities.