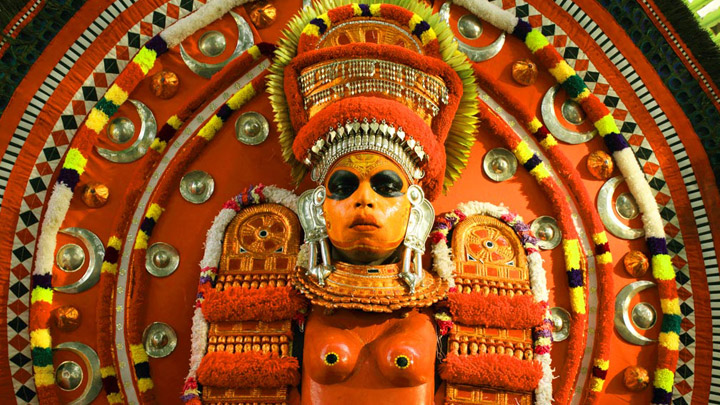 Venue: Perumthitta near Chandrapuram
District: Kasaragod
The annual ten day Theyyam festival of Perumthitta Tharavadu Kottamkuzhy of Kasaragod district is prominent among the Theyyam festivals found in Kerala. It becomes the stage for a variety of Theyyams like Elayoor Theyyam, Chamundi Theyyam, Panchoorla Theyyam, Muthor Theyyam to name a few. The performer dons the role of heroes and ancestral spirits. One wouldn't ask for a better visual treat after witnessing such an array of Theyyam together.
Getting there
Nearest railway station:
Kasaragod, about 26 km
Nearest airport:
Mangalore International Airport (Karnataka), about 50 km
Disclaimer
In Kerala, festival dates are decided in accordance with the Malayalam calendar and the local traditions and customs. We have calculated the festival dates based on these. But there can be changes in the dates according the customs and rituals associated with each place of worship. As such, these should be considered only as approximate dates and have to be confirmed with the local authorities.