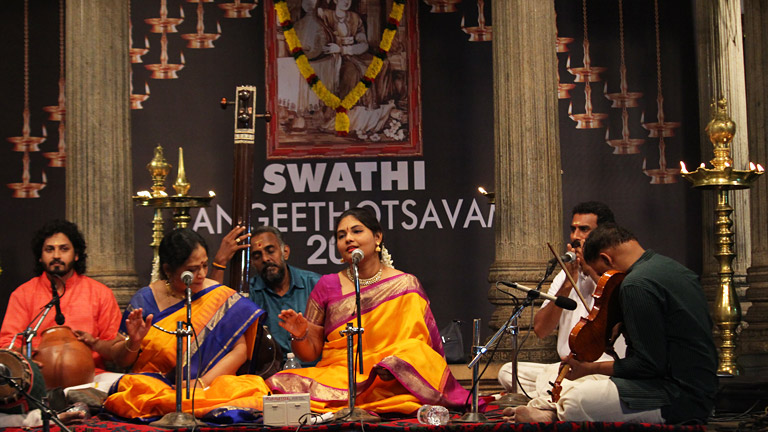 Venue: Kuthiramalika Palace
Location: East Fort
District: Thiruvananthapuram
Come January and the mighty pillars of the Kuthiramalika Palace in the capital city of Thiruvananthapuram will pulsate with the mellifluous notes sung at the Swathi Sangeetholsavam or Swathi Music Festival. This musical extravaganza lets you listen to the spellbinding compositions of Swathi Thirunal, the erstwhile Maharaja of Travancore. Organised every year to pay tribute to Swathi Thirunal, the concert celebrates the brilliant notes composed by this legendary maestro which continue to enthrall music lovers even now.
A patron of music and a musician himself, Swathi Thirunal Rama Varma has to his credit more than 400 compositions in Carnatic music as well as Hindustani music. He set a new course and direction to the musical tradition of Kerala. The concert held in the Kuthiramalika Palace adjoining the famous Sree Padmanabhaswamy Temple, sees musical performances in both Hindustani and Carnatic styles. The musical festival which is attended by eminent musicians from across the country brings together those passionate about classical music and the experts as well. Entry is free. 
Programme schedule of this year's festival, click here
Getting there
Nearest railway station:
Thiruvananthapuram Central, within a kilometer
Nearest airport:
Trivandrum International Airport, about 6 km away
Disclaimer
In Kerala, festival dates are decided in accordance with the Malayalam calendar and the local traditions and customs. We have calculated the festival dates based on these. But there can be changes in the dates according the customs and rituals associated with each place of worship. As such, these should be considered only as approximate dates and have to be confirmed with the local authorities.