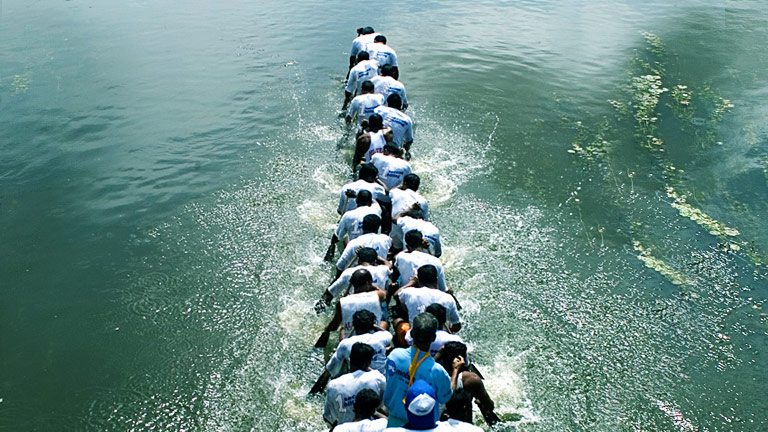 Venue: Meenachil River
Location: Thazhathangadi, KTM
District: Kottayam
God's Own Country is renowned for its spectacular boat races. Thazhathangadi boat race conducted in Meenachil River in Kottayam district is one such splendid sight. Under the aegis of the Kottayam West Club, the District Tourism Promotion Council (DTPC, Kottayam) organises this event in association with the Kottayam municipality. The festival is conducted during the Onam season (the harvest festival of Kerala).
This is one of the oldest boat races conducted in Kerala that traces its commencement from 1887 when the-then Diwan Peshkar (district collector) Mr T Ramarao popularised it with immense enthusiasm.
During the early period, the annual race was sponsored by the Travancore royalty. Then, the Kottayam YMCA took its reins, but for various reason, it had an abrupt end in 1986. After 12 years, it was restarted by Gas Authority of India Ltd, the current sponsors.
This glorious water regatta sees the participation of majestic snake boats, churulans, oadis and irrutukuthies (varies types of boats) etc. This year, Thazhathangadi Boat Race is included in Kerala's first IPL (Indian Premier League) Model Boat Race league, Champions Boat League. 
Getting there
Nearest railway station:
Kottayam, about 4 km
Nearest airport:
Cochin International Airport, about 90 km
Disclaimer
In Kerala, festival dates are decided in accordance with the Malayalam calendar and the local traditions and customs. We have calculated the festival dates based on these. But there can be changes in the dates according the customs and rituals associated with each place of worship. As such, these should be considered only as approximate dates and have to be confirmed with the local authorities.