KERALA TOURISM NEWSLETTER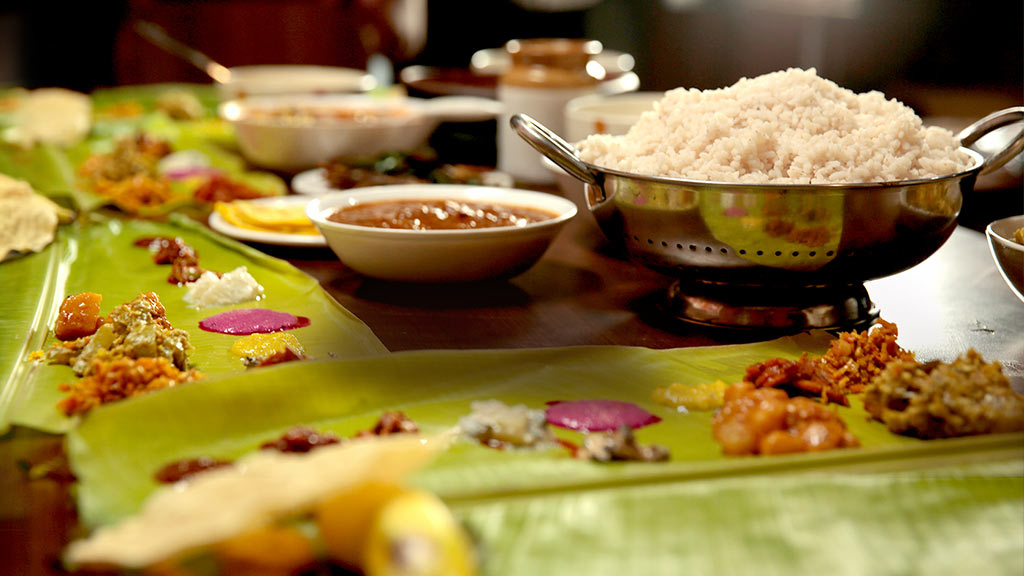 Taste of Kerala
Picture this: A sadya of steaming, red chemba rice served along with 20-28 dishes, including spicy pickles, crunchy chips, crispy pappad, and a lot more, all awaiting you on a clean green banana leaf!
What more you need to stay at home?
The very word sadya makes one's mouth water! Kerala sadya is an experience that you should never miss in your lifetime. It's a combination of subtle textures, tastes and fragrances. From spiky spiciness to tantalizing sourness to soothing sweetness, it takes your taste buds on an incredible ride.
The serving and placing of dishes in a sadya follow a specific pattern. The banana leaf is usually placed with its narrow end pointing to the left side of the guest. The essential ingredients of this traditional feast of Kerala are boiled red rice, side dishes, savouries, pickles and desserts, all served at different times of the meal.
Rice is usually served in the middle, on the side closer to the guest. The curries, that include Avial, Thoran, Olan, Pachadi, Kichedi, etc. are placed on the other side of the middle rib. Parippu is the first dish served after rice, followed by Sambar.
Along with these delicious delicacies, you can also see an array of pickles that range from tender mango to spicy ginger.
The sweet payasam enjoys the pride of place in sadya. This favourite dessert of Kerala is available in a wide variety, such as Pal Ada, Pradhaman, Semiya, Kadala Payasam, etc.
Generally, Kerala sadya makes use of all vegetables and pulses, combined in different ways to create a host of mouthwatering dishes.
It's time to explore the authentic taste of Kerala!