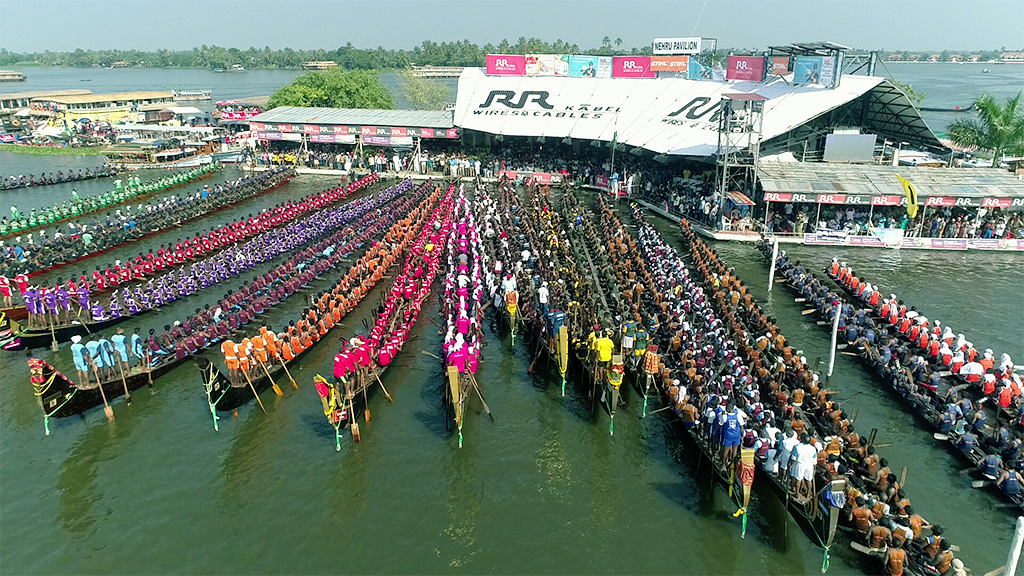 Are you ready for Kerala's Spectacular Vallamkali?!
That time of the year has come when soulful boat songs and the uproar of massively energetic crowds transform the tranquil backwaters of Kerala to spots of stellar celebrations!
Monsoon brings with it the oldest and the most celebrated tradition of God's Own Country – Vallamkali (boat race). Soon the backwaters will be dotted with snake boats of all sizes, engaged in live races. Most of the boat races are associated with monsoon and Onam, the harvest festival of Kerala.
Champakkulam Boat Race kicks off the boat race season of Kerala. Held on 15th July 2019 in the sleepy hamlet of Champakkulam in Alappuzha, this water carnival draws massive crowd to River Pamba.
Giant snake boats gliding through the quiet backwaters with hundreds of oarsmen competing with much fervour is a sight to behold.
Nehru Trophy Boat Race being the greatest water carnival of the State welcomes travellers with this zest and zeal. Come to Punnamada Lake on 10th of August 2019 to watch this fiesta in all its grandeur.
The serene waters of River Pamba host another magnificent boat race titled - the Uthradam Thirunal Pamba Boat Race. This water regatta will be held on 10th September 2019.
Aranmula Uthrittathi Vallamkali held on the day of the Uthrittathi asterism in the Malayalam month of Chingam is one of the age-old water carnivals of the state. It is unique with the impressive traditions connected with it including Thiruvona Sadya (traditional Kerala feast), Thiruvona thoni (a boat that carries offerings to Aranmula Sree Parthasarathy Temple) etc.
Apart from all these outstanding water carnivals, this year the great backwaters of Kerala will host its first-ever Champions Boat League (CBL), modelled on a league format spanning three months that start with Nehru Trophy on August 10, 2019 and continues till the 'President Trophy Boat Race' in Kollam on November 1, 2019. This spectacular race features 12 snake boat races on every Saturday from 2.30 to 5 pm.
Come experience the famed and dynamic water carnivals of God's Own Country.