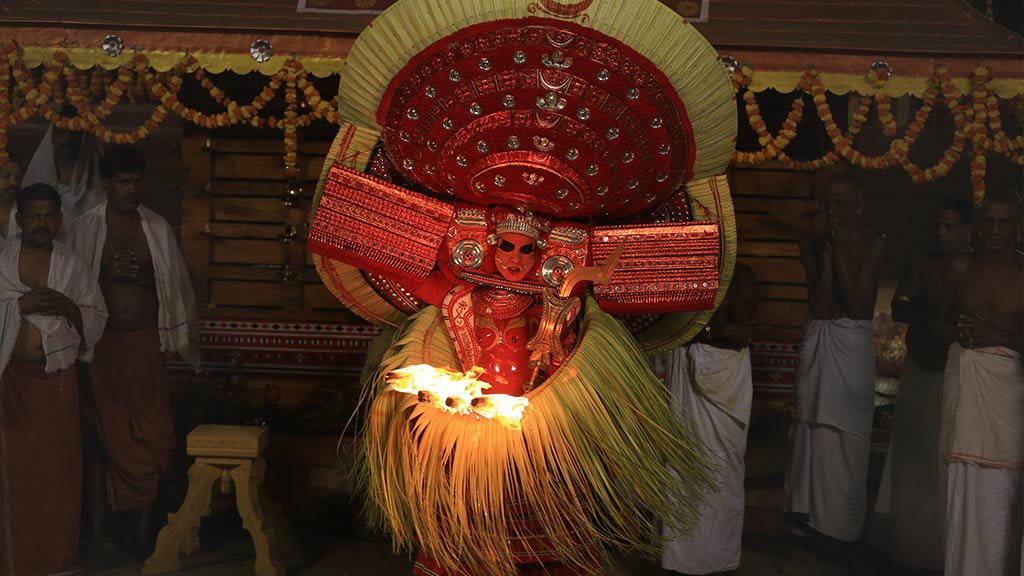 Make Way for the Dancing Gods
Now it is Theyyam season in Gods of God's Own Country.
The Theyyam season began in Kerala with the commencement of the Malayalam month Thulam that falls during October/November and lasts till May. With utmost zest, zeal and reverence Kerala welcomes the living Gods. The sleepy hamlets of North Kerala are ready to witness the divine verve and vigor of Theyyam deities in all their grandeur
Theyyam performances are usually held during the dark hours and like a night giving way to light, with blazing fires, loud, fearful costumes, intricate face paintings and masks and powerful spontaneous movements the Theyyam performers enter. The movements are intended to invoke the Gods and the performers are gradually possessed by the divine power and go to a trance.
Thousands throng the temples and sacred groves of North Malabar to watch this unique ancient ritualistic artform and to seek the blessings of this dancing deity. Kerala possesses a whole new outlook during the Theyyam season. Offering of the holy 'kanakarathna' powder to the bemoaners is a usual sight of the villages during this time.  
Being Kerala's rare and glorious form of ritual worship, the art owns an international acclaim.  There are around 400 varieties of Theyyam's performed in North Kerala. The most prominent among which are the Raktha Chamundi, Kari Chamundi, Muchilottu Bhagavathi, Wayanadu Kulaven, Gulikan and Pottan. Each Theyyam differs in colour, outlook, structure and so forth. Theyyam performances are accompanied by dynamic traditional percussion music as well.
An amalgamation of Kerala's rich heritage, ancient culture and rituals and customs, this centuries old ritual worship reflects God's Own Country's socio-cultural ethos.
Here is the exclusive Theyyam Calendar of Kerala Tourism: https://www.keralatourism.org/theyyamcalendar/