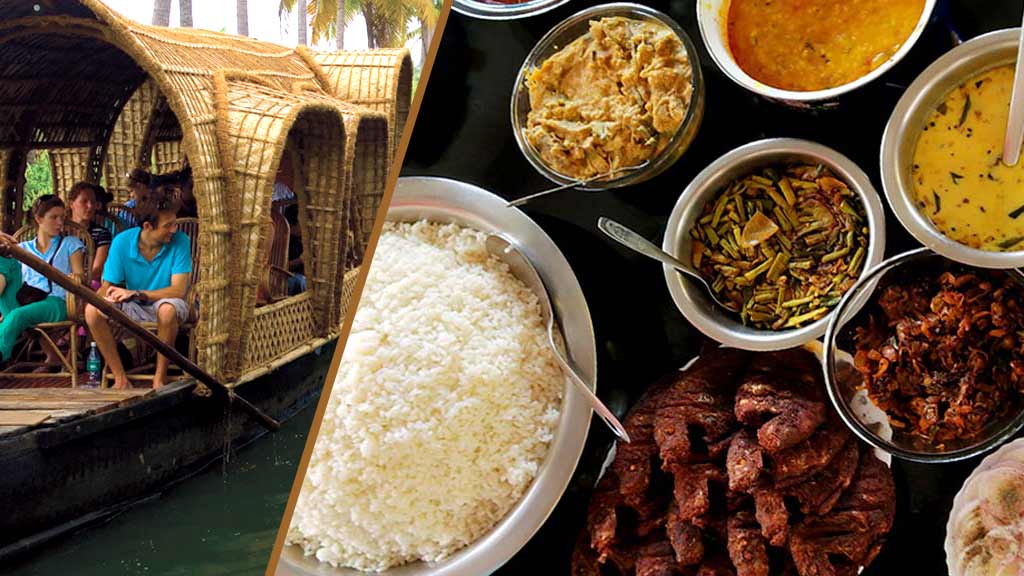 A Lip-smacking Culinary Trip in a Houseboat
Think of Kerala, and chances are that pictures of majestic houseboats moving elegantly through the emerald backwaters will popup in your mind. This image of Kerala is embedded deep in the hearts of every single traveller who has visited the green state.

Houseboats are always the pride of God's Own Country. Besides hosting a laidback cruise through the tranquil waters, facilitating close-up views of the deft manoeuvres of our fishermen and the swaying coconut groves, these houseboats offer you mouth-watering, indigenous delicacies as well.

From spicy Karimeen pollichathu (marinated and steamed pearlfish) to Kappa biriyani, the houseboats bring to you a platter of zesty tastes! The traditional dishes of Kerala seem to acquire a new taste in the kitchens of these regal boats. There is a great demand for exotic items of native cuisine – like duck roasted on a banana leaf, puttu, spiced freshwater fish wrapped inside plantain leaves and fried in coconut oil, squids and prawns sautéed on a leaf, kakka or freshwater clams, etc.

The aromas of heated clove, cardamom, pepper, dry coconut and masala on meat that arise from the cooking area of the houseboat are nothing but heavenly.
Gifted with a seemingly endless coastline, Kerala has much to offer for tickling the olfactory and gustatory senses, and her special houseboats have a veritable smorgasbord of lip-smacking fish curries. The catch of the day, fresh from the backwaters, is brought to your plate by the staff of houseboats.
On your way, you will certainly get a chance to see huts where toddy – a local brew made from the sap of the coconut tree - is served. These small shops are a ubiquitous part of Kerala's landscape.