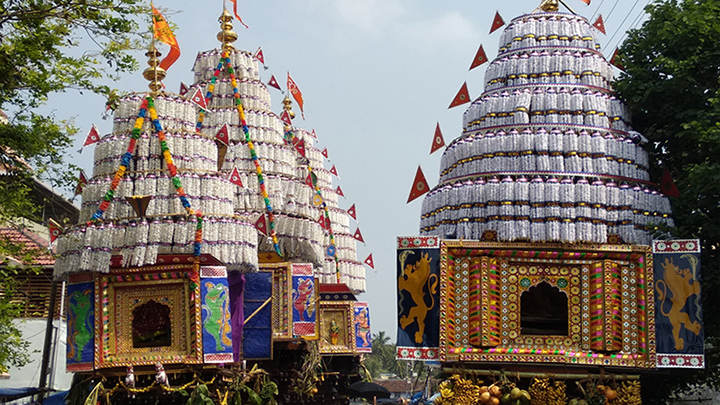 Kalpathy Ratholsavam - A Carnival of Colours
Come November and all the roads in Palakkad lead to Kalpathy. It is the time for Ratholsavam, the famed annual chariot festival. A highly intriguing sight awaits visitors during the Ratholsavam wherein huge, elaborately decorated chariots are lugged through the narrow streets of Kalpathy by devotees. 

Kalpathy, the traditional Tamil Brahmin settlement in Kerala, which has been accorded heritage village status by the Government is lined with decades-old houses, all exuding an old-world charm. The whole village gets draped in a festive splendour as the Ratholsavam is held at the Sree Viswanatha Swamy Temple at Kalpathy in Palakkad. All the rituals in the temple are conducted according to the Tamil customs and traditions. The festival which is believed to date back to over 300 years, is dedicated to the presiding deity of the temple, Viswanathaswamy.

During the ten-day Ratholsavam, the narrow streets in Kalpathy burst with a sea of devotees.

The intricately carved temple cars are decorated with glass work, myriad kinds of flowers, fruits and so on. A family called Panickers are involved in decorating the chariots with stunning glass work. Upanishad recitation and vedic discourses are held as part of the festival. A grand musical extravaganza called the Kalpathy Carnatic Music Fest is also organised during the festival by the District Tourism Promotion Council, Palakkad.
The festival is marked by another resplendent ritual called the Ancham Thirunal on the fifth day. Close to midnight, the village bears witness to a magnificent fete. A grand procession of small chariots is taken out in the wee hours as a harbinger of sorts to the mega chariot festival. Scores of people clog the narrow roads to witness this unique ritual. Vedic hymns are sung with much reverence and the whole village gets steeped in a pious atmosphere.

Grand festivities are witnessed during the last three days of the Ratholsavam. The carts start their journey on these days of the festival with the Radharohanam ritual. As many as three huge temple chariots are taken out from the Sree Vishwanathaswamy Temple alone. 

The other chariots are from the nearby temples in the villages of New Kalpathy, Old Kalpathy and Chathapuram.

The crowning moment is when the beautifully adorned chariots, bearing the deities, make their way through the maze of roads in Kalpathy. Men and women join in to pull the chariots decorated in a vast spectrum of colours. Loud cries of jubiliation echo through the streets as the chariots start trundling through the streets. 

Visitors arrive from across the globe to witness this magical spectacle. Devaratha Sangamom is one event that the devotees eagerly wait for, when all the six chariots bearing the deities are brought to the Sree Vishwanathaswamy Temple. The festival culminates with the Ezhunnalippu and Dhwajarohanam rituals. 

Festival Date (2018): 14 -16  November