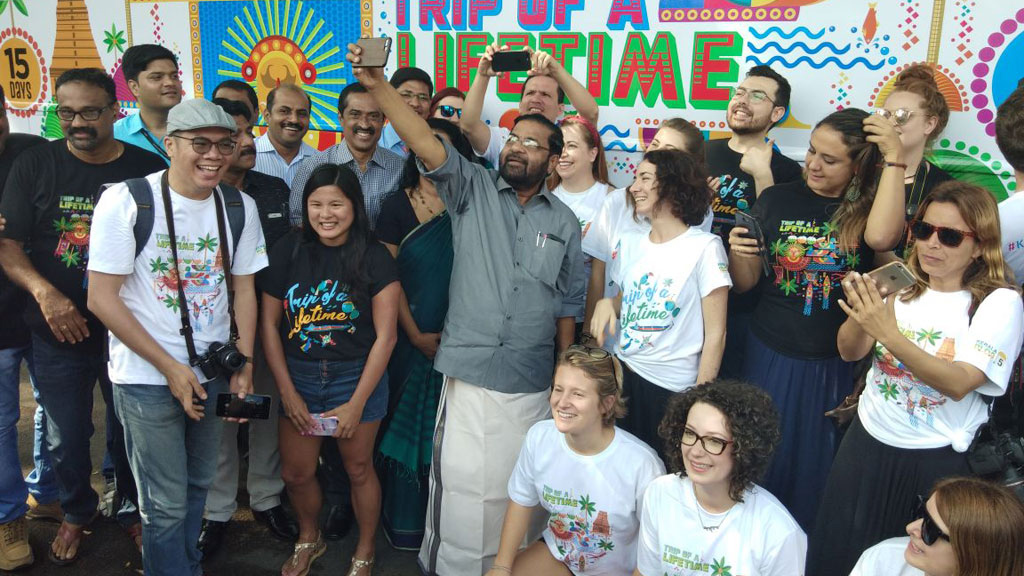 Kerala Blog Express
A grand kick off to the glorious Kerala Blog Express ! 

Packed with overwhelming joy and excitement the fifth edition of the Kerala Blog Express with the tagline "Trip of a Life Time" started its journey on March 18 with 30 chosen bloggers from 28 countries. 

Kerala is all set to mesmerise the bloggers with her lofty mountains, serene backwaters, exotic beaches, riveting forests, rich wildlife, exciting traditions and colourful culture. 

Kerala Tourism has organised the event with the expectation that the documentation of the experiences of the journey by these bloggers will increase the inflow of travellers to the State. 

The fifth edition of this annual event was flagged off from Thiruvananthapuram by Mr. Kadakampally Surendran, Minister for Tourism, Kerala. Bloggers from the US, Italy, the UK, Germany, Spain, France, Peru, Romania and so forth are participating in this two-week journey. 

The first edition of this unique online campaign was in the year 2014. From then till date the Kerala Blog Express has continued its victorious voyage alluring tourists from across the globe. The Blog Express also includes social media campaigns, familiarisation trips, and blogger's meets. 

The fifth edition takes the bloggers on a trip from the southern tip to the northern tip of Kerala bestowing them with unique and enchanting experiences throughout. The expedition through Alappuzha, Kumarakom, Thrissur, Munnar, Kozhikode, Wayanad, Kannur and Kasaragod ends on April 1st in Kochi. Bloggers will then present before the world, diverse and incredible pictures of the rural and urban lives of Kerala ranging from the rugged mountains and beaches, to busy city streets thereby alluring more travellers.