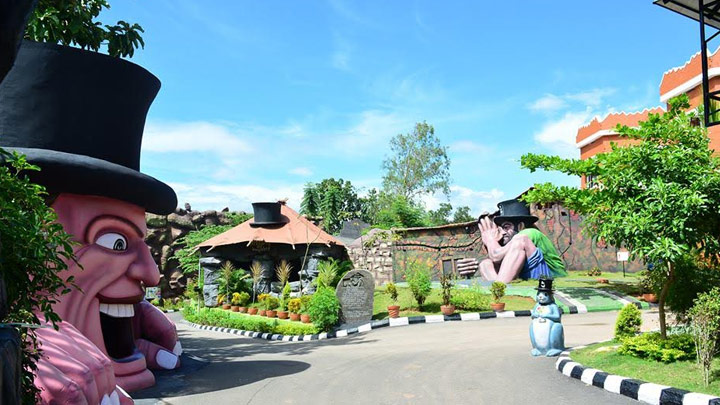 Magic Planet: Saunter into a Magical Land
Who can forget those spine-tingling, nail-biting moments that enchanted us as kids when we sat peering at a man all decked up in a black smock and beret with his white gloved hands wrapped around a shiny black wand while he sashayed about onstage, making magic happen.
Remember the wide-eyed wonder only magicians can evoke?
So how about journeying through a castle of magic?
Hop on, for a surreal and mystical journey.
Welcome to Magic Planet – a land of mysteries, where the unforeseen comes alive. The Magic Planet situated at KINFRA Film and Video Park, Kazhakuttom, in Thiruvananthapuram is a magic themed park. A multitude of fascinating activities showcasing the many splendours of magic await visitors here.
How about a magician springing up when you least expect it and surprising you with his magical prowess? The 'Walk Around Magic' is intended at throwing surprises as you unwind with your coffee. How about journeying through a dizzy bridge or getting lost in a maze of mirrors? Here, magic is in the air!
Be it a magical version of William Shakespeare's 'The Tempest', or the 'Magic Gallery' at the History Museum with its rare memorabilia tracing the tale of magic and magicians from the middle ages to the 1950s, the Magic Planet will enthrall you beyond words. Here cutting edge digital technology and mystical lighting renders spectacular and hypnotic performances possible.
The 'Psycho Magic', 'Virtual Super Market', and 'Time Tunnel' are magical treats solely intended at children.
At the 'Mind Fusion' you might want to guard your thoughts as the whole idea is to read your mind. Another highlight is the 'Wings of Magic' where walk around magicians will perform their routine magic.
And then there is the mother of all acts- the 'Vanishing Act'. Watch, as one of the greatest illusions of all time unfolds. Here, you focus on a huge ship. And presto! It is gone! All this and much more, the list of magical acts at this dreamy place is endless.
'Magic Planet' is an ode to those ever enchanted by the magician's wand and whatever it can conjure.
Abracadabra! Now drown yourself in Magic!
For more details visit: www.magicplanet.in