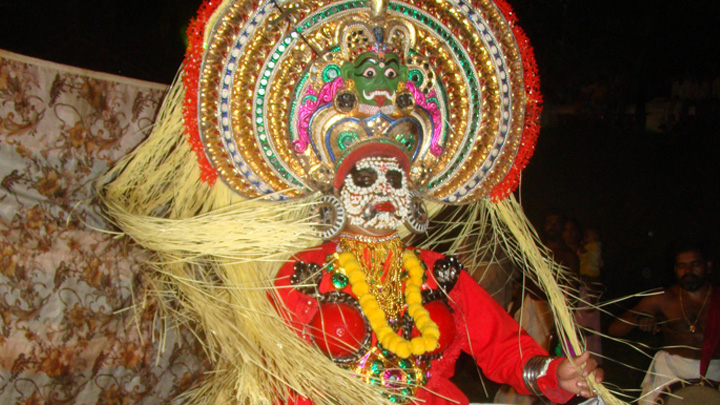 Mudiyettu- A Magnificent Dance-Drama
One among the oldest art forms, Mudiyettu is a ritual art form performed in the Bhadrakali temples of Ernakulam and Kottayam districts. The story performed in Mudiyettu is from the Hindu mythology. Night provides the ideal setting for this folk drama which involves the staging of a highly fierce war scene- the slaying of the demon Darika by Bhadrakali.

UNESCO has added this spectacular art form in its representative list of the Intangible Cultural Heritage of Humanity.

Kalamezhuthu marks the start of the Mudiyettu ritual. This involves creating a highly colourful drawing of the protagonist Goddess Bhadrakali in the temple premises. 'Kalampooja' follows next wherein the worship of the drawing is held. Later, the drawing is erased and is followed by beautiful rendition of hymns by musicians. 

The stage has now been set for the dramatics. 

A grand visual spectacle begins. The seven characters include Goddess Bhadrakali, Darika, Lord Shiva, Sage Narada, Dhanavendran, Koyimbadan and Kooli. 

Wearing vibrantly decorated headgears, costumes and makeup, the artistes perform remarkably to the thunderous beats of the traditional percussion instruments. The elaborate makeup creates an otherworldly feel while the dialogues are rendered in the form of a musical. 

The intense interactions between Bhadrakali and the demons Darika and Dhanavendran make for a dramatic performance.  The heights of fury and rage are displayed with such artistic brilliance by the artistes that it keeps the audience enthralled. The performance is laced with humorous instances as well.  

This ritual is held on the Bharani asterism in the month of Meenam, according to the Malayalam calendar.