Athirappally and Vazhachal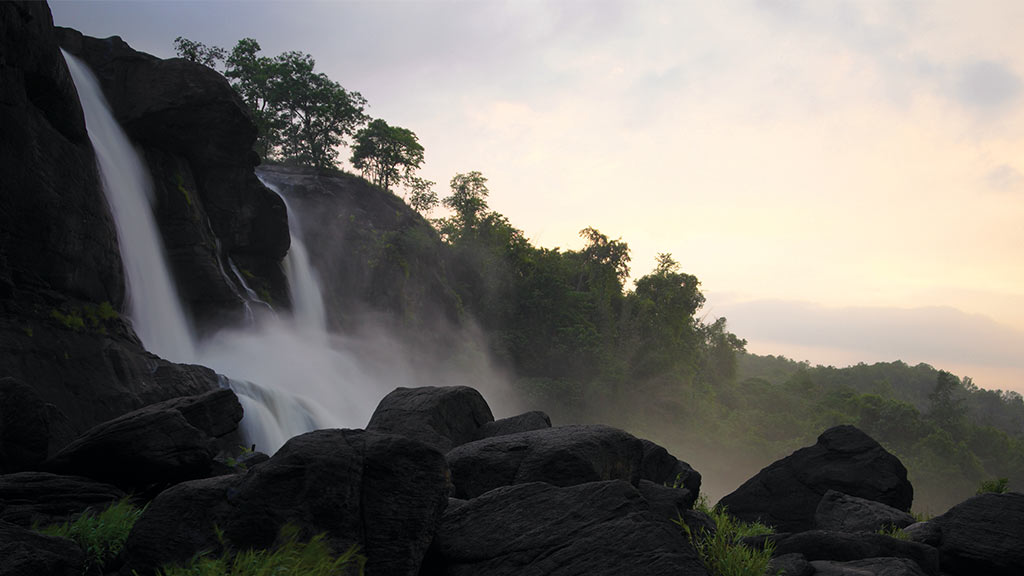 Travellers who want to get away from the hustle and bustle of far-off towns set out Athirappally waterfalls in Thrissur. Located 30 kilometers from Chalakkudy town and two and a half hour drive from Kochi, Athirappally waterfalls is situated 1000ft above sea level on the Chalakkudy river.

Set amidst thick forests of Sholayar range of Western Ghats, Athirappally a grandiose sight to watch and even from a distance would announce its presence with its pounding on the rocks. The sight of the mesmerizing falls could heal sore eyes in a moment.
You can spend a whole day watching the spectacular falls from a distance, sitting around on one of the stone benches or just walk down through the forest path to reach the foot of the falls. Want to see the waterfall in all her glory; you must come during the monsoon.

Another five kilometers from Athirappally is another waterfall - Vazhachal, which may not be as spectacular a sight as the former. Unlike the vertical falls at Athirappally, water gushes along a bed of tricky rocks at Vazhachal. Beware, rocks are so slippery here and the only way to enjoy Vazhachal is to sit on stone benches and watch the diamond drops glittering when the sun kisses them.
Entrance fee:
Rs. 30/- Indian Adult
Rs 100/- Foreigner