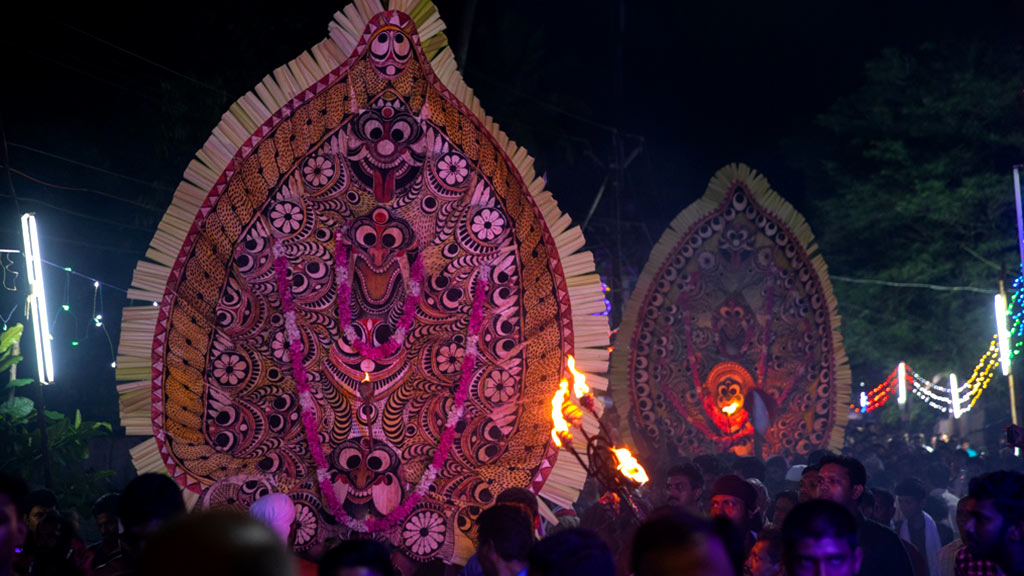 Venue: Kadammanitta Devi Temple
District: Pathanamthitta
The roaring beats, vibrant hues and a crowd chanting and dancing in revelry are among the sights that engulf Kadammanitta Devi Temple in the tiny hamlet of Kadammanitta annually. It is here that people come to witness the world's most majestic display of the ritual art form of Patayani- the Kadammanitta Patayani. Proceedings begin with the lighting of fire and the beating of the thappu or the Patayani percussion instrument.  It is performed to appease Goddess Bhadrakaali and this festival is celebrated every year from the first day of Malayalam month, Medam to the 10th day, called the Pathamudayam.
Getting there
Nearest railway station:
Thiruvalla, about 30 km
Nearest airport:
Trivandrum International Airport, about 105 km
Disclaimer
In Kerala, festival dates are decided in accordance with the Malayalam calendar and the local traditions and customs. We have calculated the festival dates based on these. But there can be changes in the dates according the customs and rituals associated with each place of worship. As such, these should be considered only as approximate dates and have to be confirmed with the local authorities.