The calendar below contains details of 50 festivals and their accompanying rituals that take place during Kerala's monsoon season usually in the months between May and August. The calendar highlights temple, church, or mosque locations, provides dates of festivals and rituals, and gives information on the contact persons associated with upcoming shows. This collection also includes fifty videos which will provide a brief glimpse of these colorful festivals and rituals.

Kerala is a land of festivals. Every month, in fact almost every week, a festival is celebrated in some corner of the state. The monsoon arrives and swathes the parched land in verdant greens and bright yellows. Life blossoms again and the earth awaits another harvest and the drum beats of yet another festival.

The calendar will add a cultural aspect to those planning monsoon holidays. As the monsoons in Kerala do not have a pattern of incessant downpours, the respite of sunshine and the opportunity for travel is always present.
Ochira Kali
This year on 16-06-2019 to 17-06-2019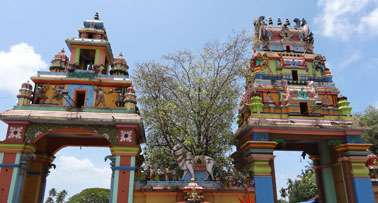 Date: First and second day of the Malayalam month of Midhunam (June-July)
Location: Ochira Sree Parabrahma Temple, Kollam

Oachira Sree Parabrahma Swamy Temple is a unique place of worship. This temple, situated near the National Highway between Kollam and Alappuzha, does not have a definitive structural layout and mode of worship. The whole concept of worship revolves around the Parabrahmam or the universal consciousness. The temple has an illustrious and distinctive annual festival called Oachira Kali. This event celebrated on the first and second day of the Malayalam month Midhunam is a carnival of fun and frolic that includes muddy warriors, a mock battle and the cheers of spectators.
How to get there :
Ochira Temple is very close to the KSRTC bus stand Oachira in NH 47.

Kayamkulam railway station is 5.2 km away.

Nearest Airport is Trivandrum International Airport. (99km)
Videos :
More