Menu
HOW TO REACH SABARIMALA
The Lord Ayyappa Temple of Sabarimala, located in a forest in Pathanamthitta, is a hill shrine. The temple is situated on a hilltop at an altitude of 468 m (1535 ft) above sea level and is surrounded by mountains and dense forests. Vehicles going to Sabarimala are allowed only up to Pamba which is at a 5 kilometer distance from the temple. From here, visitors have to proceed by foot. The temple is open during the pilgrim season known as mandala kaalam which falls approximately between 14th November to 27th December every year, and makaravilakku which falls in mid January each year. During this time it is estimated that about 45-50 million devotees visit the shrine of Ayyappa. The temple is also open for a few additional days every month.
There are strict traditional practices, rituals, preparations and dress codes meant for those intending to visit Sabarimala. In preparation for their visit, pilgrims wear black rudraksha beads around their neck, dress in black or blue mundus/dhotis and abstain from the consumption of non-vegetarian food and alcohol. They also take a vow to celibacy for the 40 days prior to their pilgrimage.
Sabarimala can be reached traveling through towns like Ettumanoor, Kottayam, Changanassery, Thiruvalla, Chengnanoor and Adoor. The most convenient route for pilgrims in south Kerala is to journey via Adoor and for those coming from north Kerala to proceed via Kottayam to reach Sabarimala.
How to reach Sabarimala by air?
Sabarimala is located in the Western Ghats, inside a forest area in south Kerala. The nearest airports are the international airports in Kochi and Thiruvananthapuram. Pilgrims reaching Kochi by air will have to travel about 160 km by road and those flying in to Thiruvananthapuram will have to travel about 170 km by road in order to reach the temple.
Pilgrims can also visit Sabarimala by arriving at Calicut International Airport in Karipur, Kozhikkode or use the TamilNadu airports of Madurai or Coimbatore. These airports, however, are only the first step in the journey to Sabarimala, as the next part of the journey will have to be completed by rail or road. Pilgrims arriving at Kozhikode by air, for instance, will have to travel about 330 km by road or by rail and road. Similarly people reaching Coimbatore and Madurai will have to travel about 315km by road from Coimbatore and 250 km by rail and road from Madurai to reach Sabarimala. Pilgrims from Coimbatore can also reach Kottayam by train. The approximate distance is 250 km. After the train journey, travelers will have to complete the last 90 km by road. Similarly, pilgrims from Kozhikode can also travel by train to reach Kottayam, which is about 260 km away. From Madurai Airport, pilgrims can visit Sabarimala via Kumali by road.
How to reach Sabaraimala by train?
There is no direct railway line connecting other towns to Sabarimala but there are a few railway stations near the temple. The nearest railway stations are at Kottayam, Thiruvalla and Chenganur which are about 90 kilometres from Sabarimala. For pilgrims coming from places outside Kerala, like Mangalapuram, Bangalore, Coimbatore, Hyderabad, Mumbai, and Delhi, disembarking at Kottayam railway station is the most convenient stop followed by Thiruvalla and Chenganur for easy access to Sabarimala.
Some trains end their trip at Ernakulam which is to the northwest of Kottayam. Pilgrims getting down at Ernakulam will need to proceed to Kottayam by boarding another train for an additional journey of about 1½ hours. They may also proceed by road to reach Sabarimala. Some trains may go from Ernakulam to Kollam or Thiruvananthapuram via Alappuzha and these will not touch Kottayam. Pilgrims traveling in these trains may need to get down at Alappuzha and then proceed by road through Changanassery and Erumely, or else, may need to get down at Kayamkulam and proceed by road via Adoor. The distance in both cases by road is about 125 kilometres. For pilgrims coming from Thiruvananthapuram by train, the best stations to disembark are Thiruvalla or Chenganur and then travel about 90 kms by road to reach Sabarimala.
How to reach Sabarimala by road?
The majority of visitors to Sabarimala arrive by road. Devotees coming from the state of Karnataka who come via Managalore or Mysore can come to Thrissur town in the central part of Kerala. They may then take the Moovattupuzha-Kottayam road to reach Sabarimala. It is about 210 kilometres from Thrissur to Sabarimala.
Devotees from Tamilnadu or Andra Pradesh can reach Thrissur via Coimbatore or Guddalore. Pilgrims coming from the central regions of the State of Tamilnadu can come via Madurai or else through Kumali to reach Sabarimala. From Madurai, it is about 250 kilometres by road to reach the shrine.
For pilgrims coming from regions in southern Tamilnadu like Nagercoil, Sabarimala may be reached via Thiruvananthapuram - Kottarakkara -and Adoor. Sabarimala is about 250 kilometres from Nagercoil. Pigrims can also arrive via NH47 from Thiruvananthapuram via Kollam, Kayamkulam, Mavelikkara, Chengannur or Thiruvalla.
Pilgrims arriving from Chenkotta of Tamilnadu, can come to Punaloor and reach Sabarimala via Ranni and Erumeli. Pilgrims coming by road from Ernakulam can proceed via Vaikom-Ettumanoor route to reach Kottayam and from there through the Kanjirappalli-Erumeli route to reach Sabarimala. The total distance is about 165 km.
And for those coming from Alappuzha, Sabarimala can be accessed by road through the Chanaganassery-Erumeli route. In addition to journeying from Alappuzha, pilgrims can proceed through Thiruvalla, Kozhencherry and Pathanamthitta to reach Sabarimala, which is about 125 km by road.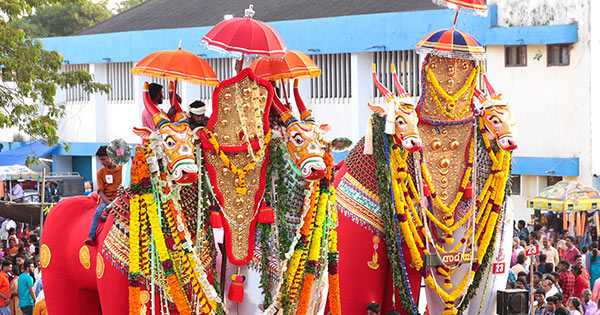 Festivals of Kerala
An exclusive video gallery page for the Festivals of Kerala. Being a state with rich culture and tradition, Kerala has innumerable festivals to be witnessed.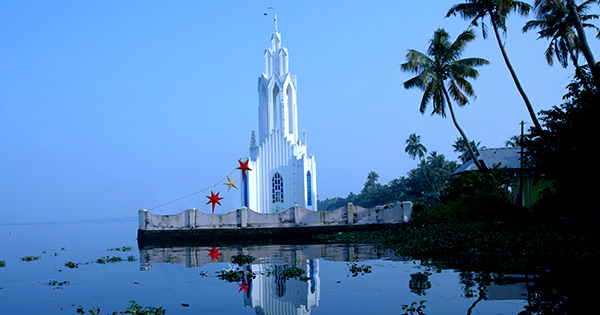 Picture Gallery on Kerala Festivals
Picture gallery from Kerala Tourism on the Festivals of Kerala.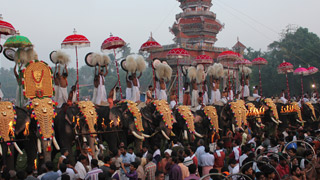 Colourful festivals of Kerala
Festivals of Kerala have traditionally been preservers of the art and culture of Kerala.