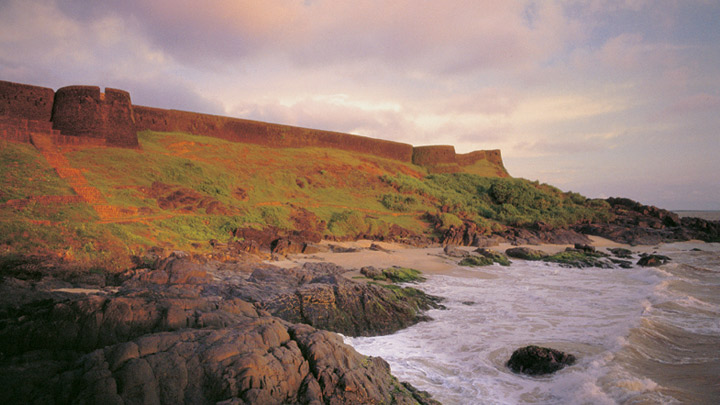 Kasaragod, the Northern most district of Kerala is renowned as the land of gods, forts, rivers, hills and beautiful beaches. The imposing fort at Bekal is one of the largest and best-preserved forts in Kerala. The beautiful expanse of the shallow beach near the Bekal fort, known as Bekal Fort Beach has been developed as an exotic beach location by the Bekal Resorts Development Corporation (BRDC).
Beautification of the site includes installation of two sculptures of Theyyam created using laterite on the beach and a shed the walls of which are adorned with murals created by artisans from Nilambur. Apart, from these a rock garden at the parking area has been developed where laterite boulders of various sizes have been utilised. Under the social forestry scheme, trees have been planted in the beach area.

Walkway: A beautiful walkway has been laid for the visiting tourists to explore the beauty of the fine coastline and enjoy the panoramic view of the Bekal Fort.

Illuminated beach: The beach gets illuminated during the evening hours so that tourists can spend more time at the beach even after the sun sets.

Resting facilities: Multi shed and Eru madam (Tree house) would provide the tourists enough facilities to take rest and enjoy the sea breeze. By using locally available materials seating arrangements have been provided for the tourists at the beach.

Toilets: Toilets have been provided for the use of tourists and eco-friendly bamboo waste bins have been provided in the entire beach site for keeping the area clean.

Children's park: A park has been developed here for children below 14 years.
The BRDC was set up by the Government of Kerala to develop Bekal as a planned eco-friendly destination. The BRDC has utilised 19 acres of land for the development of the Bekal Fort Beach.  
Click here to watch the Moods of Bekal 
Bekal Fort
Visiting hours: 0800 - 1800 hrs
Entry fees: Adults, Rs. 15/- (Free for children upto 15 yrs)
Contact for details: +91 467 2310700 
 
Getting there
Nearest railway station: Kasaragod, on the Kozhikode-Mangalore-Mumbai route.  
Nearest airport: Mangalore, about 50 km from Kasaragod town; Calicut International Airport, Kozhikode, about 200 km from Kasaragod town.
Geographical Information
Distance from district head quaters: 1600 m South direction.