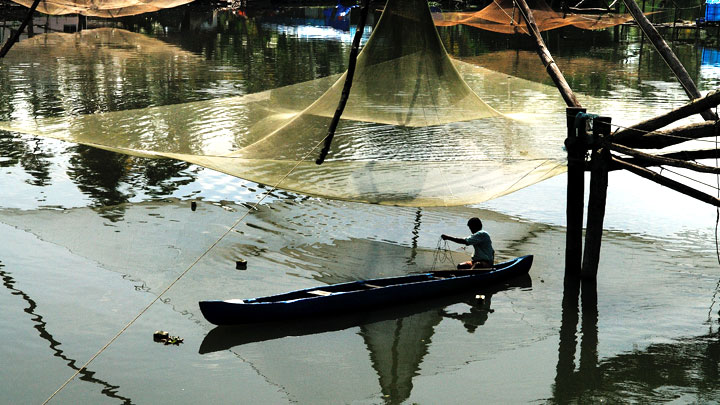 The bustling district of Ernakulamis a cluster of islands networked by lagoons and backwaters, situated on the coast of the Arabian Sea. The cosmopolitan city of Kochi (Cochin), part of Ernakulam, is the commercial hub of Kerala. Nicknamed the 'Queen of the Arabian Sea', Kochi is one of the finest natural harbours in the world. In ancient times, the port city of Kochi was a major centre of commerce and trade with the Arabs, Chinese, Portuguese, Dutch and the British. To this day, one can still observe the influences of these myriad cultures here, as they each left their unique mark. The most exciting part of visiting Kochi is moving around in the local ferries. Organised cruises on the Kochi backwaters will take you to a number of quaint destinations.

Fort Kochi (Beach)
Access: Backwater ferry / bus / three-wheeler auto rickshaw. 

A leisurely walk is the best way to discover the historic Fort Kochi, although there are bicycle tours on offer as well. Once an obscure fishing village that became the first European township in India, Fort Kochi's vibrant history will serenade you from every corner. It had a formidable reputation as a seafaring commercial town, so much so that Nicolas Conti, an Italian traveller of the Middle Ages, remarked: If China is where you make your money; then Kochi surely is the place to spend it. The town was shaped by the Portuguese, the Dutch and later the British. The most prominent outcome of these cultural interfaces is seen in the many remains of Indo-European architecture that still exist here. The massive cantilevered Chinese Fishing Nets, brought here by traders from the court of Kublai Khan, are a riveting sight on the Kochi shore line.