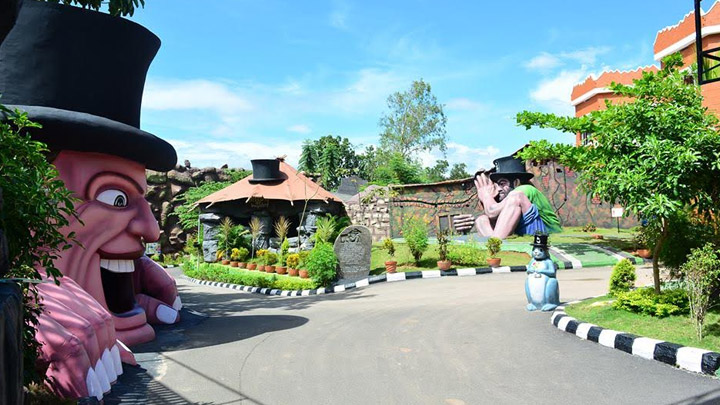 The Magic Planet located in Thiruvananthapuram which claims to be the world's first magic themed park is fast emerging as a major tourist spot in Kerala. Envisaged to showcase the wonders of magic and explore its endless possibilities, the doors to this castle of magic have been thrown open to the public.
A multitude of fascinating activities await visitors here. Among the many segments, the 'Street Magic Venue' which displays spellbinding performances and tricks such as 'The Indian Mango Mystery' and the 'Indian Basket Trick' on the streets attract visitors in hordes. Be it the magical session displaying William Shakespeare's 'The Tempest', or the 'Magic Gallery' at the History Museum with its rare memorabilia tracing the tale of magic and magicians from the middle ages to the 1950s, or the 'Circus Castle' where hypnotic and mesmerising acts are staged, the Magic Planet will enthrall you beyond words.
Apart from these exquisite and magical treats, this enchanting place has a host of other gripping attractions that can charm you forever. Magic Planet is situated at KINFRA Film and Video Park, Kazhakuttam, in the capital city.
For more details:
Kinfra Film & Video Park,
Sainik School P O, Kazhakuttam
Thiruvananthapuram – 695585
Mob: +91 9446540483, 9446540395
Email:magicplanetmarketing@gmail.com
Website: www.magicplanet.in
Getting there
Nearest railway station: Trivandrum Central, around 19 km; Kazhakuttom, around 3 km
Nearest airport: Trivandrum International Airport, around 16 km
Location
Latitude: 8.585226, Longitude: 76.879602