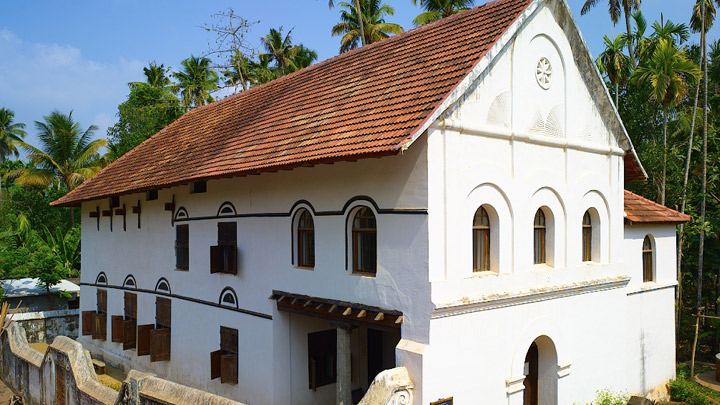 Jews all over the world are a proud lot when it comes to their culture and heritage. Resulting from their diaspora in the sixth century BC, they made their presence felt in different parts of the world. They made India too their home, till majority of them returned to Israel after 1948.

Kerala is one place in India, where the Jewish community made its presence felt in a strong manner. Their presence can be still felt in the port city of Kochi, where they are still involved in a variety of business activities. Among the prominent landmarks of the Jewish community in the region is their place of worship called synagogue. There were quite a good number of them in Kochi as well as in Kodungallur, an ancient port city not far away from Kochi.

Besides the popular synagogue at Mattanchery in Kochi, the one at the village of Chennamangalam or Chendamangalam in North Paravur is one of the biggest, which was built some 175 years ago. The synagogue was recently restored to its original glory thanks to the hard work and effort of the Kerala State Archaeology Department with financial support from Kerala Tourism. It is a protected monument under the state department of archaeology.

The synagogue at Chennamangalam reflects traditional Kerala architecture and has utilized western construction technology. Some of the visual attractions of this synagogue are undoubtedly the majestic altar, which stands out for its intricate artwork. The synagogue has a high roof, which at first sight would itself convince one about the difficulties that the craftsmen might have encountered while fixing it. The ceiling of the roof has a brightly coloured chequered pattern, with huge wooden beams giving additional support to the roof.

A wooden balcony with beautifully carved balusters and railings is another attraction of this synagogue. There is another balcony, meant exclusively for women. A marvellous craftsmanship in wood, a spiral wooden staircase leads to this balcony.

Chennamangalam is also an example of religious tolerance and harmonious co-existence, which can be felt by the presence of temple, mosque and church located close to the synagogue.

Visitors to the synagogue at Chennamangalam with a penchant for traditional architecture can also pay a visit to the Paliam Palace, which was once the abode of Paliath Achans, who were the Prime Ministers of the erstwhile rulers of Kochi. Historic documents and relics are on display at this palace.

Another nearby place of interest is the Vypeenkotta Seminary built by the Portuguese in the 16th century. Only the remains of the seminary are now visible. The synagogue is now a protected monument of Muziris heritage project.
Getting there
Nearest railway station: Aluva, about 19 km and Ernakulam, about 29 km
Nearest airport: Cochin International Airport, about 23 km
Location
Latitude: 10.241276, Longitude: 76.263943