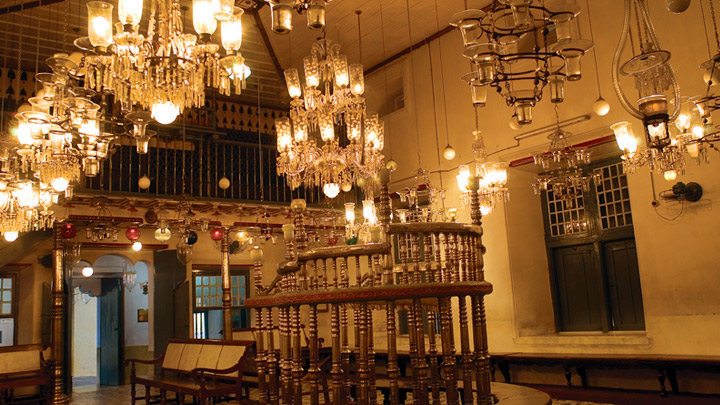 Once destroyed during incessant Portuguese shelling, the Mattancherry Synagogue is among the most historically relevant locations in Fort Kochi. The oldest synagogue in the Commonwealth, it was built in 1568.  Also known as the Paradesi Synagogue, it receives several thousand visitors every year from all over the world. People flock to Jew Street to catch a glimpse of this architecture and the lineage of the Jews who still follow the old customs.

Walk in and you're greeted by mid-18th century hand-painted and willow patterned floor tiles from China, a clock tower, Hebrew inscriptions on stone slabs, great scrolls of the Old Testament and ancient scripts on copper plates in which grants of privilege were made by the former Cochin rulers. The area around the synagogue is a centre of spice trade and curio shops. It is a beautiful destination, with memories of the past floating around in every single corner.

Visiting Hours: 10:00 - 17:00 hrs.; closed on Fridays.
Getting there
Nearest railway station: Ernakulam, about 10 km from the synagogue
Nearest airport: Cochin International Airport, about 30 km from the synagogue
Location
Latitude: 9.957776, Longitude: 76.260302