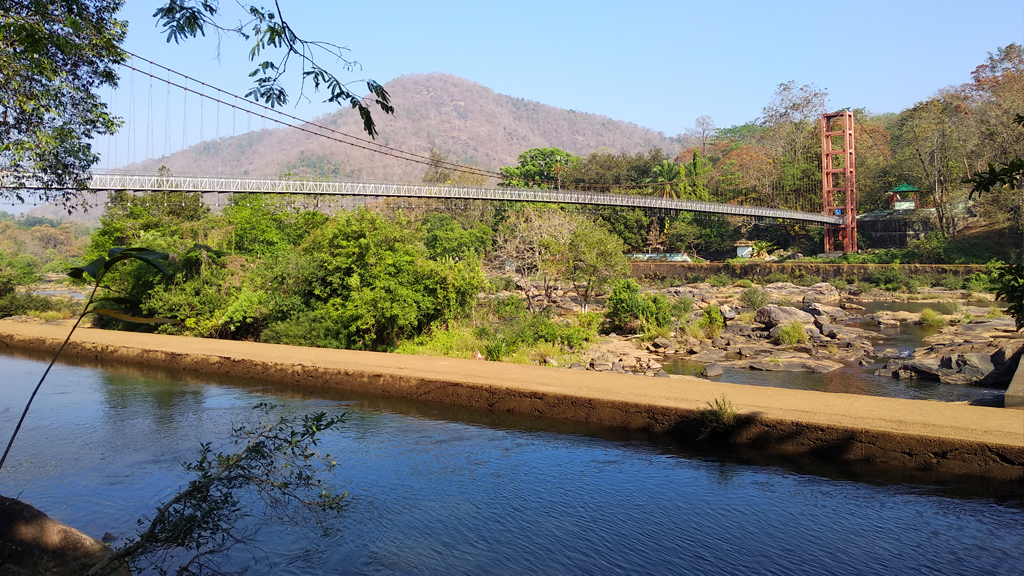 Welcome to Thumboormozhi!

Take off your shoes and walk into nature to feel the heartbeat of Mother Earth and the silky flora tickle your feet.

Nuzzled in the Chalakkudy River glade enroute the world-renowned Athirappalli Waterfalls is the Thumboormozhi Dam and Hanging Bridge. Tucked in a mystic forest patch this lesser-known wonder is a treasure of Thrissur district.  With a dam, butterfly garden, children's park and hanging bridge- Thumboormozhi has so much to help spice up your holidays. 

A journey through this dreamy stream of water will leave you with an arresting view of nature. As you go deep into the pristine world of Thumboormuzhi, the musical notes of the water gushing through the creeks of rocks and the chirping of the beautiful birds will make your trip even more delightful.  

Stroll through the hanging bridge to reach Ezhattumukham- Prakriti Gramam (Nature Village). An amazing view waits your walk through the hanging bridge that links the two banks of the Chalakudy River. Ezhattumukham situated on the other side is part of Ernakulam district. 

Drop in at the Butterfly Garden to lend an ear to the whispered conversations between the fluttering beauties and the flowers swaying the gentle breeze. The Children's Park here set amidst the manicured garden offering views of the meandering river and lush green forest is yet another alluring sight. 

A haven for diverse species of birds, the ideal time to relish this slice of greenery is during the Monsoons when the river and the dam will be overflowing with water bestowing the visitors with breathtaking scenery. 

If you are looking for a day away from the bustling world to rest on the serene lap of Mother Earth then Thumboormozhi will be the perfect getaway!  
 
Visiting time: 0900 - 1700 hrs
Entrance Fee: Rs. 15 (Adult) and Rs. 5 (Children) 
For details contact: 
Administration Office 
Thumboormuzhy River Garden 
Chalakkudy PO
Thrissur - 680721
Phone: +91 480 2769888
Getting there
Nearest railway station: Thrissur
Nearest airport: Cochin International Airport, about 50 kms