Aana Pathiri is another exotic food hailing from the Malabar coast. This is a complete dish as both the starch and the protein-rich curry are mixed together.
Ingredients
For Curry
Beef
750 gms
Ginger-garlic paste
½ tsp
Green chillies
4
Onions
2
Tomato
1
Chilli powder
1 tbsp
Coriander powder
1 tbsp
Coconut milk
Tamarind
Coconut oil
Salt
For Pathiri
Soaked rice
1 ½ cups
Aniseed
½ cup
Grated coconut
½ cup
Banana leaf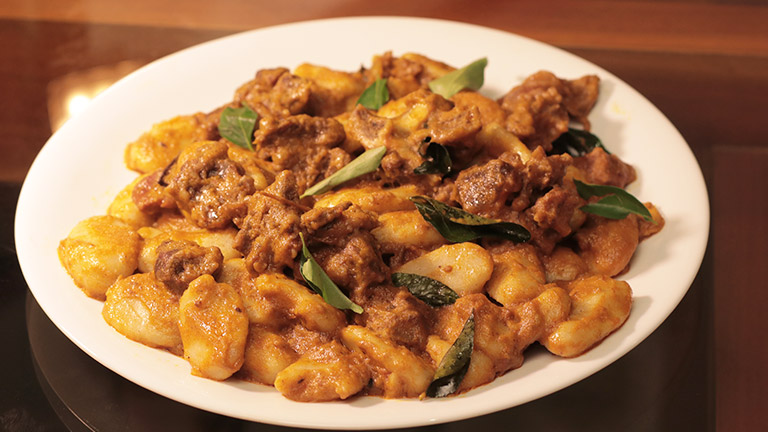 Beef Curry: Method of Preparation
Heat oil in a vessel. Add a pinch of cinnamon, anise seeds, two sliced onions, ½ tsp ginger garlic paste and four sliced green chillies to the pan and saute well. Next add one chopped tomato and salt and a little tamarind and curry leaves and stir well. Add 750 gms of diced beef and 1 tbsp red chilli powder and some water to this masala and cook for 20 minutes. When the meat is cooked, add two cups of coconut milk and boil.
Pathiri: Method of Preparation
Take 1 ½ cups of soaked rice, ½ cup grated coconut, ½ tsp anise seeds and blend the ingredients to make the dough. Next, shape the dough into small circles and place the discs of dough on a greased banana leaf. Steam the dough to make pathiris. Add these pathiris to the curry and serve hot for a delicious meal.