Malabar, located on the southern coast of Kerala, takes pride in its variety of cuisine that has been shaped over the years by a mingling of regional, French and Arabian influences. Kozhikode and Thalassery are known as the centres of Malabar cuisine. Kozhi Nirachathu or Stuffed Chicken is one of the popular chicken preparations that appear on a Malabar menu.
Ingredients
For marinating
Full chicken
1
Chilli powder
2 tsp
Turmeric powder
½ tsp
Oil and Salt
For the masala
Onion
1
Green chilli
1
Tomato
1
Garlic
4 cloves
Turmeric powder
½ tsp
Garam masala powder
¼ tsp
Aniseeds
½ tsp
Black pepper powder
½ tsp
Chicken liver
2
Hard Boiled Egg
1
Chicken stock
Salt and Coriander leaves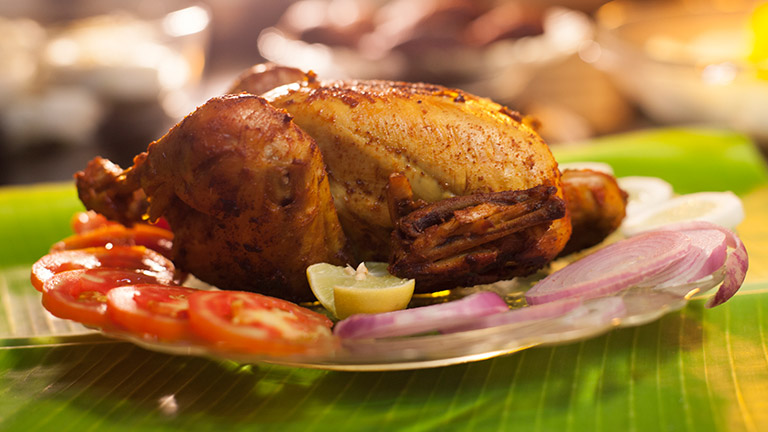 Method of Preparation
Marinate the chicken with turmeric powder and salt.
Heat oil in a pan, add sliced onions, and stir well until onions are glazed and browning. Add split pieces of green chillies, chopped tomato and crushed garlic. Cover the pan and cook for 2 minutes. Add powders of turmeric, black pepper, aniseed, garam masala and salt. Into this mixture add the chicken liver ground with pepper powder. Sauté well. Next, add the hardboiled egg and coriander leaves and sauté well.
Empty the ingredients into a bowl. Take the marinated chicken and stuff it with the prepared masala. Next, steam the chicken in a broth of chicken stock and red chilli powder for about 20 minutes. Remove chicken from the broth and deep fry until golden brown.
Your delicious Kozhi Nirachathu is ready.