Eravikulam National Park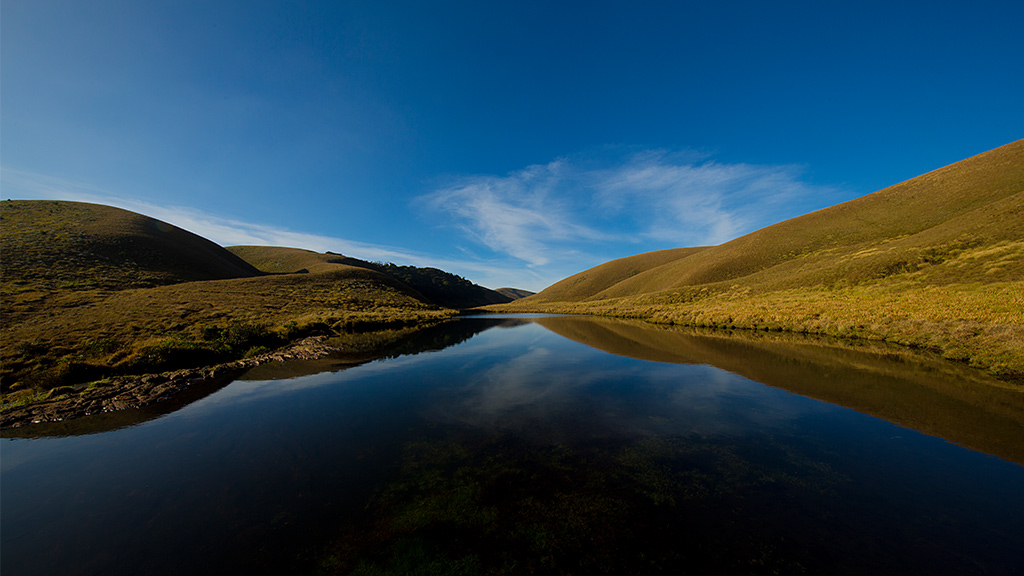 Eravikulam National Park near Munnar is perhaps the most beautiful forest patches in Kerala, if your kind of beauty is unending grasslands spread over hills interspersed with densely packed shola woods, blue mountains, glittering streams, kaleidoscopic fog that refreshes themselves every minute into new shapes, stunning sunset, and sunrise, and pure air, that with every breath you take, you could feel it tingle inside your lungs. If the earth were this beautiful, why should there be a paradise for, you wonder whistling in raptures? There are others too who enjoy the serene nature of these woods.

On the crest of a distant mountain, you see a herd of elephants (so distant that they look like paper-cut figures) moving leisurely towards a shola forest on the other side. Opposite on another hill a deer for a moment watches you intently, then disappears as thick fog rolls in, then reappears but this time from another hill far away. Eravikulam National park is one of the most sought-after destinations in Kerala not only because of these magical experiences one could have each day but also for the presence of some rare species of animals and plants.
The Nilgiri Tahr and other animals
People come in large numbers to Rajamala, where the trek to the National Sanctuary begins. The star attraction is the endangered Nilgiri Tahr, which is seen, in large numbers grazing on hillsides. The ones that often dare the tourist zone are hardly shy of the crowd and will provide you that close encounter with an exotic kind of wild rarely experienced by tourists in any other part of the country.

In addition to Nilgiri Tahr, the national park is also home to animals like gaur, tiger, leopard, sambar deer etc. A bird enthusiast will be thrilled to meet many an elusive bird after all his trekking through various woods. Laughing Thrush, Nilgiri Flycatcher, Nilgiri pipit etc are common sights in the forest. In addition to one hundred and one butterfly species present in the woods here, Atlas moth, the largest moth in the world can also be found in the Sanctuary.
Neelakurinji: Also famous is the Neelakurinji season in Eravikulam that comes every 12 years, when flowers, scientifically known as strobilanthes kunthianus, bloom and whole hillsides inside the National Park burst into purple.
Where
Eravikulam is nearly 15 Km north of Munnar and can be reached from Kochi (135 Km) and Kottayam (148 Km) by Road.