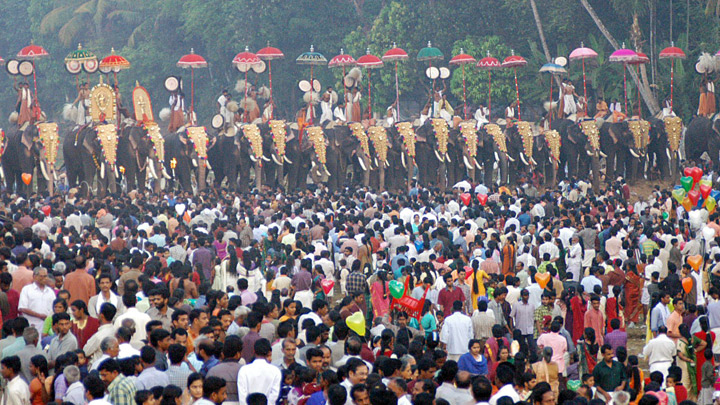 Venue: Arattupuzha Temple
Location: Arattupuzha
District: Thrissur
Considered to be the mother of all pooram festivals in Kerala, the Arattupuzha Pooram which is the annual festival at Arattupuzha Temple in Thrissur is a rich visual spectacle. A well attended event, this vibrant pooram is considered to be the oldest of all. The visual splendour and grandeur of this pooram trumps all other such festivals. The ornately decked up venues host many caparisoned elephants and the festival witnesses the rendition of panchavadyam, the traditional Kerala percussion ensemble.
The premises of the Sree Sastha Temple, which is dedicated to Sage Vasishta and believed to be more than 3000 years old, is the venue for the festivities.
A ceremony that sets this festival apart from the rest is the Koottiyezhunnallippu or Devamela which is a procession of different deities. As many as 23 deities from different temples are brought here and worshipped which makes for an arresting visual. It is believed that the presiding deity is visited by Gods and Goddesses of the neighbouring villages during the festival.
The festive spirit reaches its zenith during the last two days. Sasthavinte Melam, held on the evening prior to the last day of the festival, is one such ceremony that sees high spirited participation. It involves staging of percussion ensembles and an assemblage of caparisoned elephants. Brightly lit traditional lamps and huge flame bearing staffs, locally called as theevetti, are set up which adds to the ambience of the melam. By early morning, the elephants carrying deities of nearby temples are made to lineup in the adjoining paddy field. The air is charged with the resounding beats and the rhythm of the percussion ensembles comprising Panchavadyam, Pacharimelam and Pandimelam.
By sunrise, the elephants carrying deities from neighbouring temples are taken to the nearby river for the aarattu ceremony. It is a ceremonial cleansing process in which the idol is immersed in the river and is accompanied by the chanting of mantras and floral offerings. The idol of Lord Ayyappa, the presiding deity of the Sree Sastha Temple at Arattupuzha is the last to undergo the arattu. The idols are then taken to their respective temples after the arattu ceremony.
Getting there
Nearest railway station:
Thrissur, about 14 km
Nearest airport:
Cochin International Airport, about 44 km
Disclaimer
In Kerala, festival dates are decided in accordance with the Malayalam calendar and the local traditions and customs. We have calculated the festival dates based on these. But there can be changes in the dates according the customs and rituals associated with each place of worship. As such, these should be considered only as approximate dates and have to be confirmed with the local authorities.