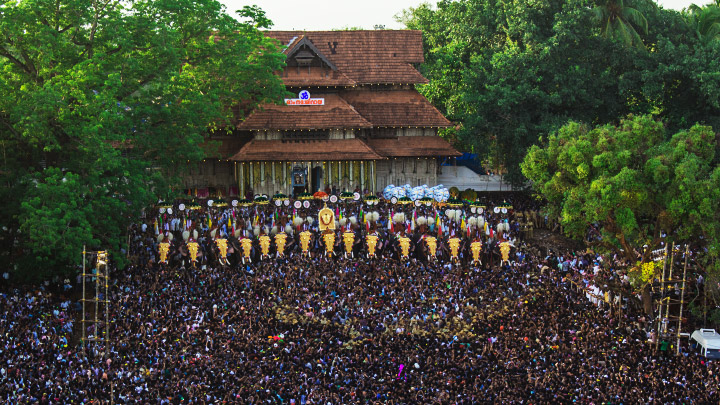 Event date: 19-04-2024
Venue: Thekkinkadu Maidanam
District: Thrissur
A resplendent festival celebrated with a grand display of caparisoned elephants, dazzling parasols, and percussion music, the Thrissur Pooram is a magnificent spectacle merging the spiritual and cultural essence of Kerala. Celebrated in the Malayalam month of medam (April-May), the pooram is held at the Thekkinkadu Maidanam in Thrissur. 
Considered to be the mother of all poorams, this yearly temple festival was the brain child of Shakthan Thampuran, the Maharaja of Kochi, who organised the festival with the participation of 10 temples (Paramekkavu, Thiruvambadi Kanimangalam, Karamucku, Laloor, Choorakottukara, Panamukkampally, Ayyanthole, Chembukkavu, Neythilakavu).
The festival sports an enthralling line-up of vibrantly decked up elephants and is marked by the kudamattom ceremony. Involving swift and rhythmic changing of brightly coloured and sequined parasols, the kudamattom ceremony is one among the highlights and is a keenly watched event.
Another high point is the ilanjithara melam, a highly bewitching performance of traditional instruments which lifts the thousands gathered to a state of euphoria and bliss. Around 250 odd artistes participate in this traditional orchestra led by chenda artistes and the spirit is mirrored by the thousands of spectators who wave their hands in accordance to the rhythm generated by the chenda, kurumkuzhal, kombu and elathalam (traditional instruments of Kerala). The finale is marked by a grand fireworks show.
All festivals in Kerala including religious are on pause as the world battles the ongoing corona virus pandemic. In an effort to prevent spreading the virus, no religious congregations will be permitted however places of worship may perform the customary rituals related to the festivals. We will notify you once the situation gets better and shrines are open to the public.
Disclaimer
In Kerala, festival dates are decided in accordance with the Malayalam calendar and the local traditions and customs. We have calculated the festival dates based on these. But there can be changes in the dates according the customs and rituals associated with each place of worship. As such, these should be considered only as approximate dates and have to be confirmed with the local authorities.