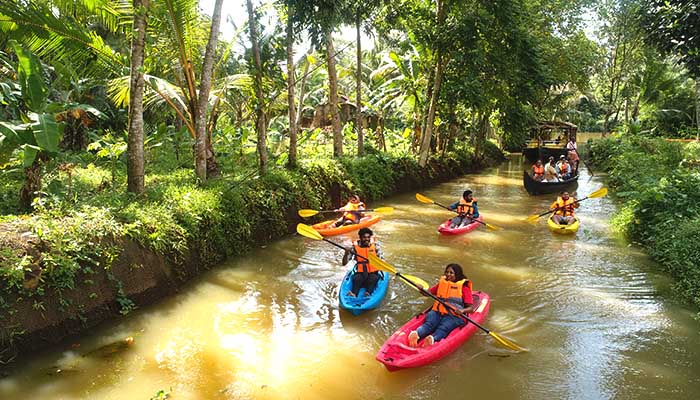 The quaint little village of Maravanthuruthu, abundant with the lushness of nature, in Kottayam district is the first Water SREET village launched by the Responsible Tourism Mission in Kerala.
At the World Travel Market (WTM) in London 2022, Kerala Tourism's STREET project received much appreciation for its innovative efforts and bagged an award for 'Conserving water and improving water security and supply for neighbours'.
The STREET project which stands for Sustainable, Tangible, Responsible, Experiential, Ethnic Tourism was implemented as a participatory tourism development approach that was modelled along the lines of the World Tourism Organization's (UNWTO's) motto 'Tourism for Inclusive Growth'. The local community has shown great interest in the initiatives of the Responsible Tourism Mission which is evident in its Art Street which displays vibrant artworks that peek into the local identity, lifestyle and cultural activities of the region. The compound walls of every house along the 2 km stretch from Koottummel junction to Kadoorkkara are now painted with vivid images making the walk through Art Street an enlivening experience. The local community has come forward to develop innovative models for boosting the tourism value of the region through Water Street, Art Street, Flower Street and Cuisine Street.
---
Maravanthuruthu is a successful model of sustainable and experiential tourism destination in Kerala that offers activities like Kayaking, country boating, coracle boating and shikhara boat tours. The project aims to promote sustainable tourism practices and create livelihood opportunities for the local community while preserving the village's cultural and natural heritage.