E-Book on Vaikom, Resource Directory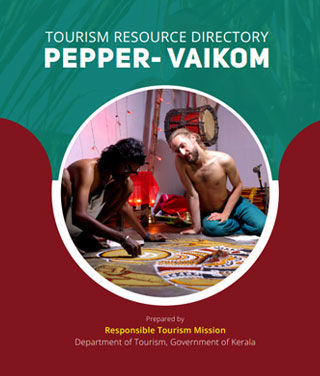 Vaikom, cradled in the tight embrace of enchanting backwaters, and holding a serene village life in its bosom can easily be described as a 'Heaven on Earth'. Vaikom is a perfect countryside with emerald waterways, green-carpeted nature, serene villages, and a great history to boast. Surrounded by the Vembanad Lake, crisscrossed by narrow canals, it is best to explore the village lives of Vaikom through canoe cruises. The backwater cruises, handloom industries, extrusion of lime shells, pottery making, Kalamezhuthu, the traditional festivals, and the mouthwatering local cuisines are some of the many experiences that await you here. Take a peek at this marvel and get a feel of the unspoiled nature, the cults, culture, religions, and people of this wonderland.
Download E-Book
RT Destinations
Destinations Packages
Home
I
RT Units
I
Revenue Generated
I
Classification
I
Research & Training
I
RT Partner
I
RT Kerala
I
Objectives
I
Registration Forms
I
Daily Work Report
I
Contact
---
Responsible Tourism Mission
Department of Tourism, Government of Kerala, Park View, Thiruvananthapuram, Kerala, India - 695 033 E-mail:
rt@keralatourism.org
All rights reserved © Kerala Tourism 2022.
Copyright
|
Terms of Use
.
Developed & Maintained by Invis Multimedia.