Kerala is a land blessed with coconut trees and there would be hardly any home compound in the state without these majestic palms swaying gently. Similarly, there is no dearth of coconut products in the state - derived both from the tree and its fruit. Keralites depend on coconut for its oil and flesh/meat, both of which are used in cooking, and its coir for making mattresses.
However, the coconut husk is usually either discarded or used to make composite materials or utensil scrubbers. But have you ever imagined coconut husks as adornments in living rooms in the form of alluring home decor? A. Prathap from Thiruvananthapuram has given new avatars to this 'chaff'. He has created magical wonders using husks and received state, national and international plaudits for his craftsmanship.
His products which range from monkey faces to Buddha statues, plant holders, Kathakali figurines, elephants, dog heads, and frames of clocks have fascinated customers with their raw beauty, finesse, eco-friendliness, and durability. These objects may last up to 300 years.
During the early years of his career, Prathap used to sell his products from the shop he set up near the Padmanabha Swamy Temple, and later on started to supply his products to the Handicrafts Development Corporation due to recurring demands. Currently, he has set up a unit in Kerala Arts and Crafts Village at Vellar, less than two kilometres from Kovalam. This unit has been supported by Responsible Tourism initiative of Kerala's Tourism since 2013.
How has RT Helped his Unit?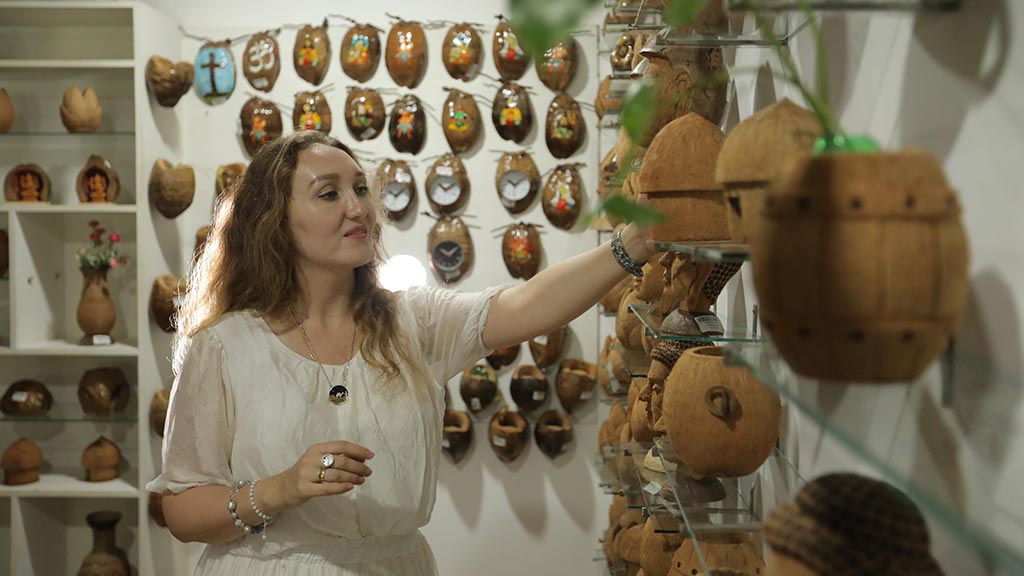 From someone who experimented with his craftsmanship on a dry coconut shell around 36 years ago, Prathap rose to national and international fame, and he attributes a great deal of success to the Kerala government's nodal agency, Responsible Tourism. He recounts how this initiative has provided fillip and moral support to craftsmen like him.
"The Responsible Tourism initiative has helped my business grow in leaps and bounds. A wide gamut of customers from inside and outside Kerala – from individuals to organisations – come here. People from various countries including the UK, Germany, the US and Italy buy my products and through them, I get fresh orders from abroad," says Prathap
In addition to coconut husks, Prathap has also created products using wood and thermocol.
He also has regular foreign customers in Kovalam who make it a point to buy products from him whenever they visit the beach.
"These are such alluring and eco-friendly pieces of art. I am totally mesmerised by these and I am buying some of these products to take home," says Nichole, a tourist from Austria, who paid a visit to Prathap'shop.
"There is an old lady who is a regular customer in Kovalam. She has built a house nearby and invited me one day. To my surprise, I saw my products like a dog head and a Buddha statue placed in her prayer room. This was a moment of pride for me," exclaims Parthap, who has received maximum orders from Delhi in India.
Before becoming a member of the Craft Village, Prathap used to have his unit near the beach and guide foreign tourists in visiting various handicraft units, apart from selling his products to them.
He also explains how RT helped him boost his business, just before the onset of the Kerala flood in 2018 and says, "It was Onam and the Kerala government had arranged a 'sadya' for tourists in Kattaikonam and offered 'onakodi' kits for them. My handicraft products worth Rs 250 were included in the kit, and that was a huge moral and financial support for me," adds Prathap.
He bagged the National Award for handicrafts in the years 1994 and 1995 and from 2012 to 2014 and is a recipient of the Haryana State Award thrice. He has served as a member of the national award jury of handicrafts for 18 years. This year, Prathap received the Global Tourism Award.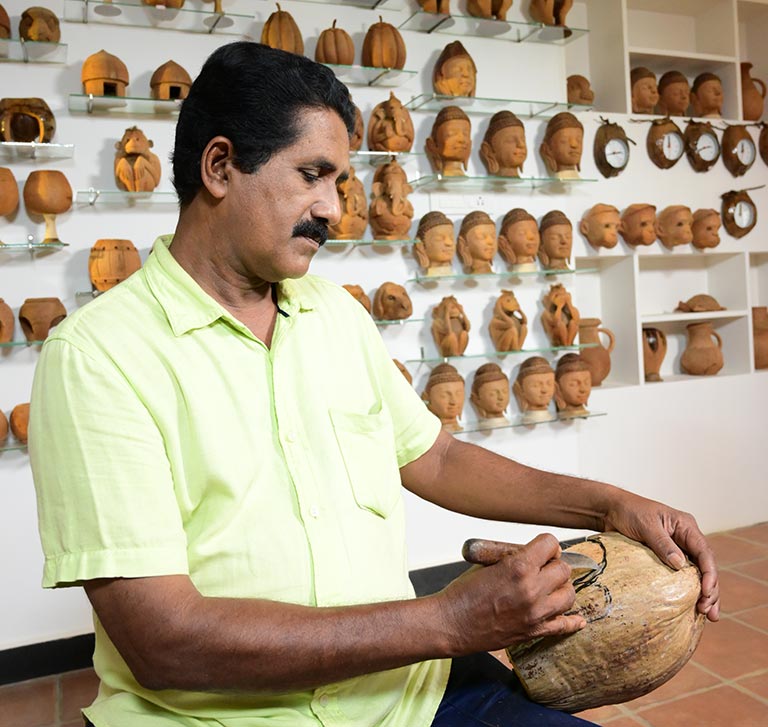 Providing Training to Local People
Prathap has also provided training in making handicrafts from coconut husks. He was part of the central government's training programme, the Guru Shishya Parampara Scheme. He also provides training under various other schemes to individuals above 18 years. College students also show interest in studying under him.
An Ordinary Day in Prathap's Life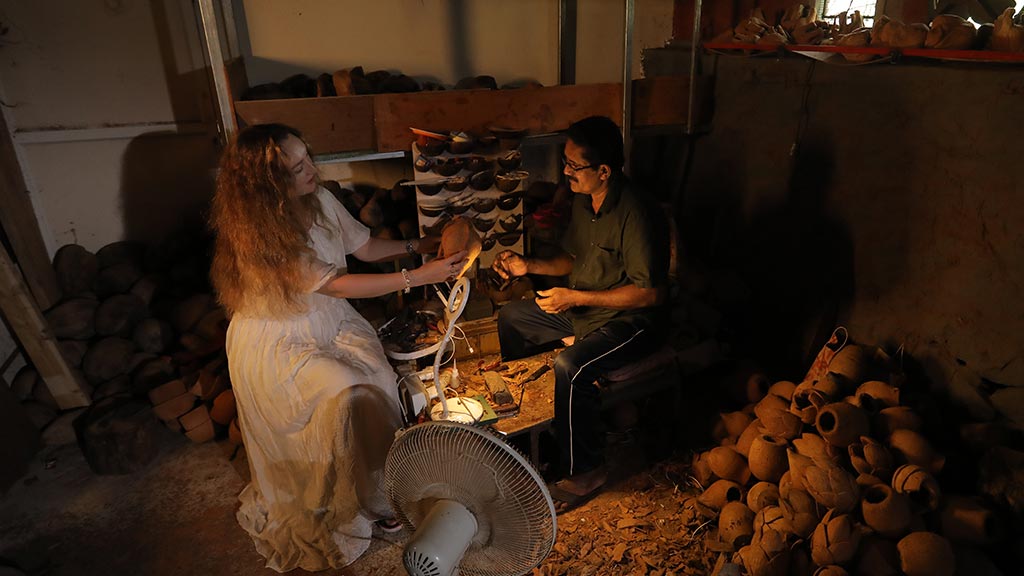 Prathap's usual day starts at 5.30 am and he works till 7.00 pm. He has a collection of around 200 coconut artefacts in his workshop, some of which are as old as 20 years. Most of these raw materials are sourced from the Chithranjali Film Studio in Thiruvallam.
"An attractive feature of my work is that the raw materials are available aplenty at a cheap rate. There is no additional cost, except the initial cost of buying the machinery and tools. In my case, I have customised my tools and machines. The older the coconut, the easier my job," says Prathap. He does not work against a set timetable, but according to his inner instincts.
Prathap further adds, "I may be struck by an idea - on what product I should make, and I write it on the coconuts. Later, I work on those ideas. My mind is always preoccupied with new ideas and innovations." One of Prathap's personal favourites is a Ganapathi figure, which was completed in six months. Currently, this model is kept in Rajiv Gandhi Bhavan in Delhi. He has also created Kathakali figures, and has gifted these products to many people including film celebrities like Mohanlal, Jagathy Sreekumar, Nedumudi Venu and Captain Raju.
"As I am growing older, I prefer to sit in one place and do my job. Travelling does not interest me like before. Here, I sell around 20 pieces per day, which is very convenient and profitable for me. Coconut has changed my life forever, and I am looking forward to more unique creations," adds an excited Prathap.