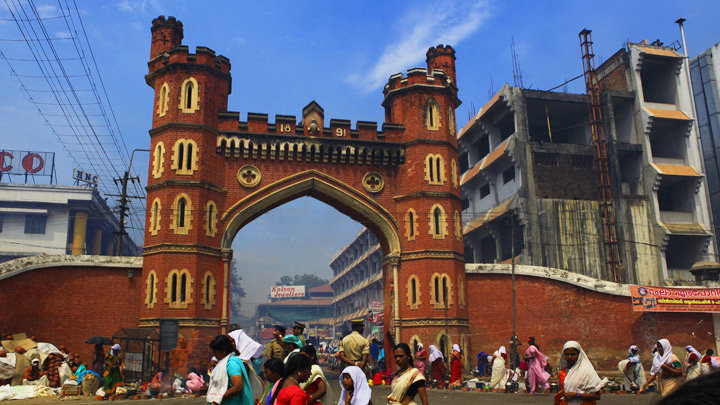 East Fort is among the most bustling areas in all of Thiruvananthapuram, famous for being home to the historic Sree Padmanabha Swamy Temple. It is full of people, tourists, shops and a plethora of commercial sites all around. It has witnessed the rise and changes of many an important kingdom, from erstwhile Travancore to modern day Thiruvananthapuram. The entire area has been declared by the State Government as a heritage site.

Visitors are immediately greeted by its imposing white gateway, located on the eastern side and facing the famous Chalai bazaar. Built in C.E 1747 by King Marthanda Varma, the East Fort is the most prominent of the forts. Near its Vettimurichakotta Gateis located C.V.N. Kalari, a famous school of Kalaripayattu. Straight in line with the East Fort gate is the Sree Padmanabha Swamy Temple. Built in traditional Kerala and Dravidian style, the architecture of this seven-storied temple-tower itself makes for a magnificent visual. As per Hindu traditions and beliefs, the deity of the temple is Lord Padmanabha, the incarnation of Lord Vishnu, the preserver of life. While entering one comes across the unique Methan Mani, a clock with a man's face with two goats on either side on its dial. There are many other important gates including Nariadachankotta, Padinjarekotta and Azheekotta.

Inside one finds structures used by the erstwhile royal family, including several small and big palaces, and palatial buildings built in traditional as well as western style of architecture. The Ananthavilasam Palace, built by King Vishakam Thirunal in 1880, was constructed in the Baroque and Rococo styles of architecture. Other integral experiences in the area include the Kuthiramalika and the Navarathri Mandapam. Kuthiramalika or the Horse Palace gets its name due to the wooden carved structures of prancing horses along the entire length of its upper floors. The Navarathri Mandapam hosts the annual ten-day Navarathri celebrations, famous for its music festival that sees prominent personalities from across the industry gather in one spot for a glorious celebration.
Getting there
Nearest railway station: Thiruvananthapuram, about a km, is the nearest railway station.
Nearest airport: Trivandrum International Airport, about 7 km  
Location
Latitude: 8.480628, Longitude: 76.945621