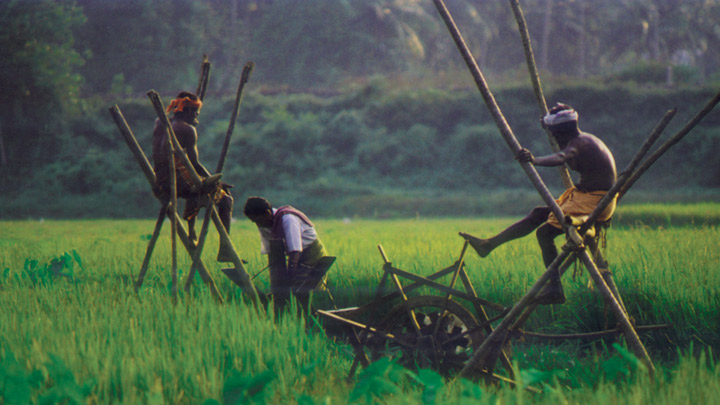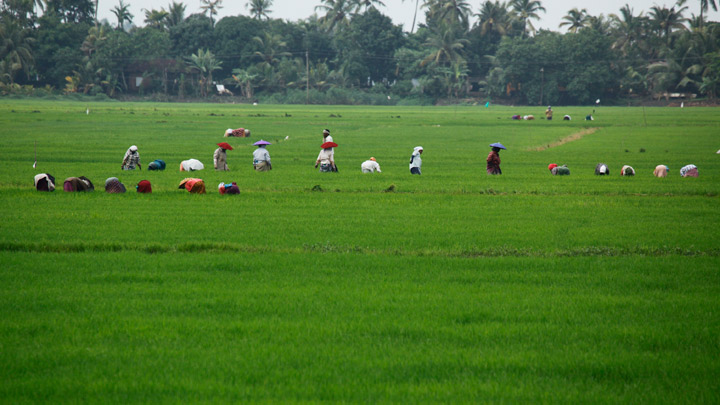 Kuttanad, the 'Rice Bowl of Kerala', lies at the very heart of the backwaters in Alappuzha district. Its wealth of paddy crops is what got it this unique nickname. Based in the inner regions of the district, it is a huge area of reclaimed land, separated by dikes from water which is higher than it appears. The view of the countryside is what enchants all who pass through this area while travelling via houseboats. It has been speculated that it is perhaps the only place in the world where farming is done up to 2 meters below sea level. The area is serviced by 4 major rivers: Pampa, Meenachil, Achankovil and Manimala. 

The Alappuzha - Changanassery Road that passes through the heart of Kuttanad is famous for itsscenic view of this locale. One gets to view a slice of the traditional country lifestyle. Visits to these villages can be a life changing experience. Especially during the harvest season, one finds farmers working in the fields most of the day. The early hours of the day brings to us the sight of women carrying sickles to the fields while men are busy sowing seeds and getting rid of weeds. Fields with rice stalks have legions of parrots hovering around them. One may also see darter birds flying around as they are known to be around the area surrounding the backwaters.

The canals that crisscross Kuttanad are home to tall coconut trees that sway with the breeze. One sees ducks quacking around as youths dive into the water to hunt for shells. Some of the tastiest cuisine can be found at the shacks nearby and if you feel like it, do ask for toddy. It is a native alcoholic beverage that is extremely popular in the area.

You can always experience Kuttanad via a boat or a houseboat. The view, the breeze, and the diligent habits of locals will never leave your mind.
Getting there
Nearest railway station: Alappuzha
Nearest airport: Cochin International Airport, about 85 km from Alappuzha
Location
Latitude: 9.355408, Longitude: 76.404047
Geographical Information
Altitude: 2 m Below sea level