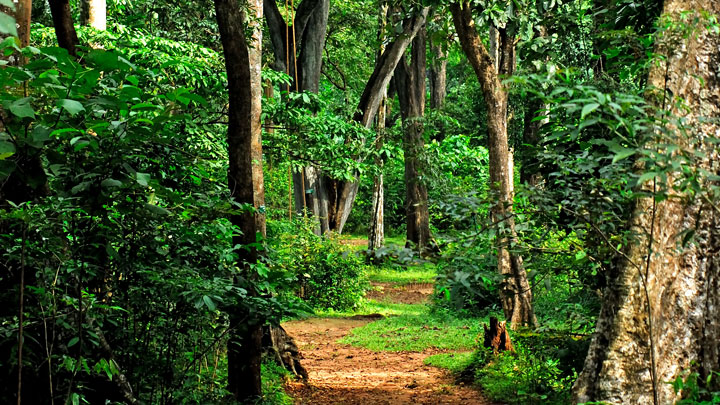 Shendurney Wildlife Sanctuary in Kollam is a beautiful natural haven located in Southern Kerala. It was established in 1984 and covers a total area of 171 sq. km. It is the only wildlife sanctuary in the district and is renowned for its biodiversity and beauty.

The sanctuary is full of many picturesque vantage points. It has a host of trekking trails that takes one on a wonderful journey through these evergreen forests. Irrigation in Kollam and Pathanamthitta districts is taken care of by the Parappar Dam that was built across the Shendurney River. One comes across a rare tree species called Chenkurunji (Glutatravancorica) while travelling the forest. A safari here introduces one to hosts of wild herds including deer, monkey and bison. It is a gorgeous place to just relax and enjoy a nice picnic.
Trekking Trails of Shendurney - Thenmala
The wild forest of Shendurney offers an opportunity to the eco-tourists to explore the unique beauty of wilderness of Shendurney Forests along two types of trekking programmes– Soft trekking and Hard trekking. Some of the popular hard trekking are Sky Walk, Reservoir Walk and Wet 'N' Wild trial. Explore the trekking trails, click here
Camping at Shendurney
To enjoy the wilderness of the Thenmala-Shendurney forests, do take a camping package and unleash yourself.  Idimuzhanganpara Nights is a trekking and camping programme where stay has been arranged at a camp near the beautiful reservoir, called the Idimuzhangan camp. Woody Rockwood, another camping program where your hut is situated deep inside the forests. Kurumthotti Top Hut Camping is a great chance for the visitors to see the wildlife from the top of a hut and to enjoy the sounds of wilderness at night. Click here know the package tariff
Boating at the Reservoir
The Parappar Dam reservoir inside Shendurney forest offers boating facility for the travellers. 
Contact Details
The Wildlife Warden
Shendurney Wildlife Division
Thenmala Dam P.O.
Phone : +91 475 2344600
Mobile:9447979081
Email: ww-shendurney@forest.kerala.gov.in
Website: www.shendurney.com
Getting there
Nearest railway station: Shengottai (Tamil Nadu), about 15 km away
Nearest airport: Trivandrum International Airport, about 53 km away
Location
Latitude: 8.860533, Longitude: 77.213806