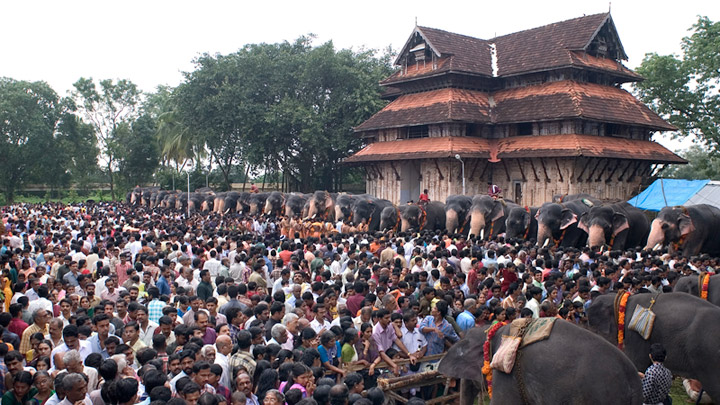 Venue: Vadakkumnathan Temple
District: Thrissur
Ever been to a feast for Elephants?
During the season of karkkidakam (July / August) in Kerala, elephants are brought inside the premises of the Vadakkumnathan Temple, situated in the heart of Thrissur town and lined-up in a single row. Facing them would be thousands of people braving the intermittent rains, waiting eagerly for their turn to feed the elephants. The temple is dedicated to Lord Shiva.
The special feed for the elephants is basically made of sugarcane, rice, ghee, coconut, jaggery and Ayurvedic medicines. This is prepared as per Ayurvedic principles, for enhancing the well-being of the domesticated elephants.
The ceremony is also rooted in the belief that worshiping the elephants and giving them delicious and healthy food is a way to propitiate Lord Ganesha, the elephant-faced God, who, as per the Hindu faith, removes obstacles in one's life.
Disclaimer
In Kerala, festival dates are decided in accordance with the Malayalam calendar and the local traditions and customs. We have calculated the festival dates based on these. But there can be changes in the dates according the customs and rituals associated with each place of worship. As such, these should be considered only as approximate dates and have to be confirmed with the local authorities.