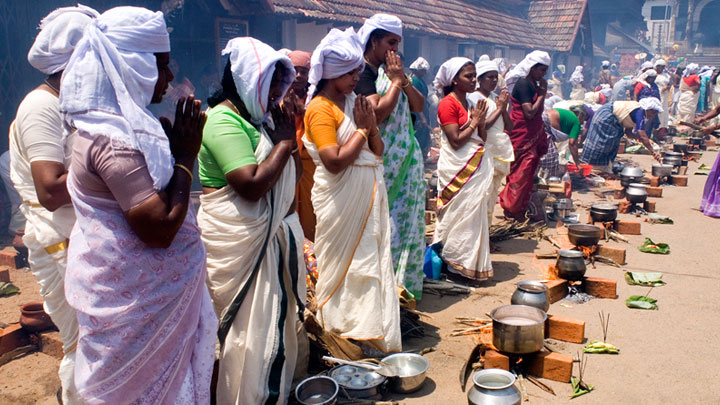 Venue: Attukal Bhagavathi Temple
Location: East Fort
District: Thiruvananthapuram
A festival like no other, Pongala, the largest congregation of women in the state, is celebrated at the renowned Attukal Bhagavathi Temple in Kerala's capital city of Thiruvananthapuram. The festival entered the Guinness records for being the largest single gathering of women for a religious activity. Only women are allowed to participate in the Pongala ritual.

Pongala (literally means to boil over) is a ritualistic offering of a sweet dish consisting of rice porridge, sweet brown molasses, coconut gratings, nuts and raisins. The pongala is offered by the devotees in the belief that the presiding deity of the temple - the Goddess - popularly known as Attukalamma will be appeased.
As the festival sees a huge influx of devotees, the crowd spills over to the major roads in the city and the festival has a whole city reveling in festive splendour.
Getting there
Nearest railway station:
Thiruvananthapuram, about 3 km away
Nearest airport:
Trivandrum International Airport, about 5 km away
Disclaimer
In Kerala, festival dates are decided in accordance with the Malayalam calendar and the local traditions and customs. We have calculated the festival dates based on these. But there can be changes in the dates according the customs and rituals associated with each place of worship. As such, these should be considered only as approximate dates and have to be confirmed with the local authorities.