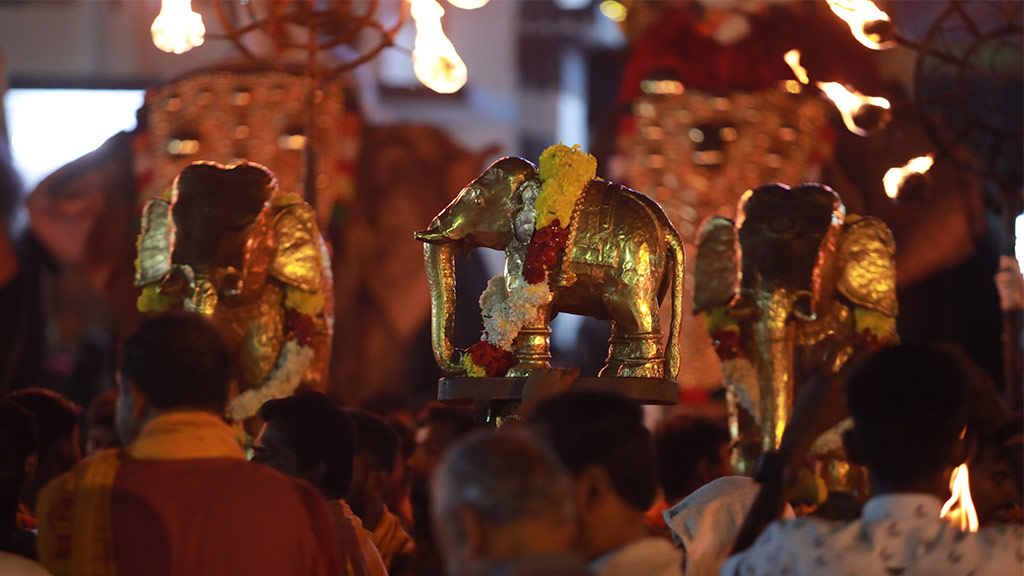 Venue: Ettumanoor Mahadeva Temple
District: Kottayam
One of the elegant sights associated with the temple festivals of Kerala is the 'Ezhara Ponnana' procession held during the annual festival at Ettumanoor Sree Mahadeva Temple in Kottayam. 'Ezhara' means seven-and-half and 'Ponnana' means golden elephant. Each of the seven elephants is two feet high and the eighth one is of one foot only. Hence they are together called seven-and-half elephants.
Celebrated in the Malayalam month of Kumbham (February – March), it is on the night of the eighth-day devotees can witness the procession of these golden elephants. The arattu ceremony is held on the tenth day on Thiruvathira asterism.Caparisoned elephants and traditional temple orchestra are also part of the procession. 
These elephants were offered to the deity by the then ruler of Travancore, Anizham Thirunal Marthanda Varma. The Ezhara Ponnana procession is a memorable spectacle to behold on the eighth and tenth day of the festival at Ettumanoor.
Disclaimer
In Kerala, festival dates are decided in accordance with the Malayalam calendar and the local traditions and customs. We have calculated the festival dates based on these. But there can be changes in the dates according the customs and rituals associated with each place of worship. As such, these should be considered only as approximate dates and have to be confirmed with the local authorities.