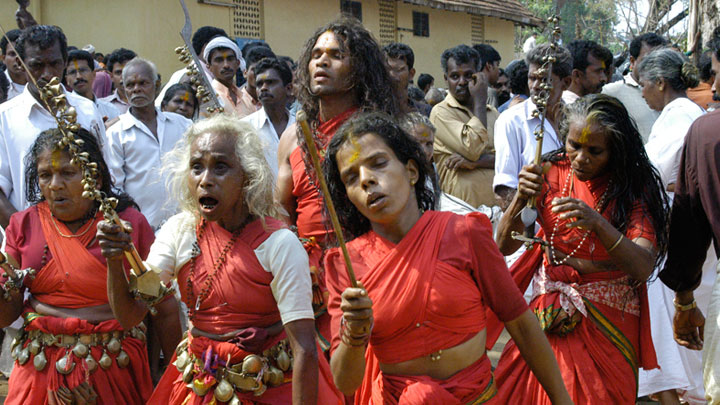 Start date: 20-03-2018
End date: 21-03-2018
Venue: Kodungalloor Bhagavathy Temple
Location: Kodugalloor
District: Thrissur
Welcome to a place where tradition pecks rituals. Imagine a scene where thousands of sword-wielding oracles both men and women called velichappads wearing vermilion costumes, swarming a temple premise. If you don't want to miss this chance, then make sure that you are there at the renowned Bhagavathy temple at Kodungalloor during the annual Bharani festival. The festival usually falls in the Malayalam month of meenam (roughly March/April) every year.
The place brims with historical significance. Kodungalloor boasts of a cultural legacy unparalleled. The legendary Bharani festival here is noted for the spectacular event called kaavu theendal in which oracles, both men and women from different parts of the State converge at the Kodungalloor Bhagavathy temple. The oracles run in a trance around the temple and smite their crown with sword, proclaiming their communion with the Mother Goddess. Meanwhile, the devotees strike the temple rafters with sticks and hurl offerings over the roof and on to the inner quadrangle.
Every year, pilgrims and curious visitors come to attend this seven-day annual festival at the Kodungalloor Bhagavathy Temple. Following the festival, the temple would remain closed for a week. 
Note: Next year the Kaavu Theendal is on 20th March 2018.
Getting there
Nearest railway station:
Irinjalakuda, about 20 km
Nearest airport:
Cochin International Airport, about 30 km
Disclaimer
In Kerala, festival dates are decided in accordance with the Malayalam calendar and the local traditions and customs. We have calculated the festival dates based on these. But there can be changes in the dates according the customs and rituals associated with each place of worship. As such, these should be considered only as approximate dates and have to be confirmed with the local authorities.