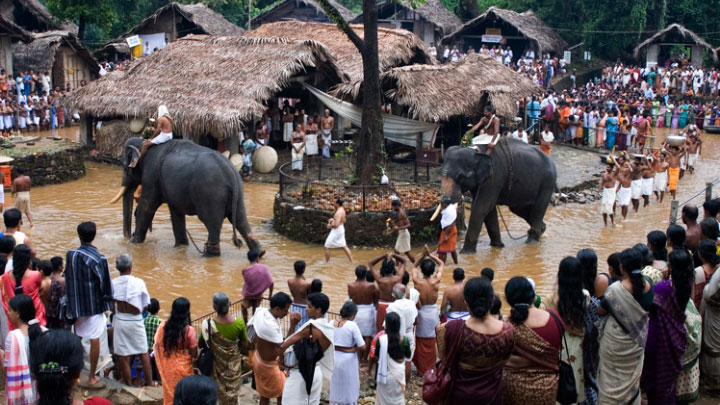 Venue: Kottiyoor temple
Location: Kottiyoor
District: Kannur
A 28 day festival, in the heart of a dense forest and in front of a roaring river,is anexperience only God's Own Country can provide. The hills of Kannur play host to the Kottiyoor Vysakha Mahotsavam, a festival hosted by two temples, Akkara Kottiyoor and Ikkara Kottiyoor. Situated on the banks of the mighty River Baveli, it is among the most beloved festivals of Northern Kerala. 

The venue is the Akkara Kottiyoor Temple which only opens during festival days annually. The devotees worship a swayambhoo lingam (self-created idol of Lord Shiva) and the temple is famous for its absence of a formal structure. The deity itself is placed on a platform made of river stones named manithara. The rituals are performedin thatched huts and begin with the Neyyattam (pouring of ghee). It begins with the bringing of a sword from Muthirerikavu in Wayanad. Another interesting spectacle seen is the Rohini Aaradhana where the priest embraces the swayambhoo Shiva linga as part of the ritual. One would also not wish to miss the Elaneer Vayppu, in which tender coconut is offered before the swayambhoo lingam. The festival ends with the Elaneerattam, in which the collected tender coconut water is poured on the idol by the head priest. It is a stunning visual spectacle, with nature itself sanctifying this divine event.
Disclaimer
In Kerala, festival dates are decided in accordance with the Malayalam calendar and the local traditions and customs. We have calculated the festival dates based on these. But there can be changes in the dates according the customs and rituals associated with each place of worship. As such, these should be considered only as approximate dates and have to be confirmed with the local authorities.