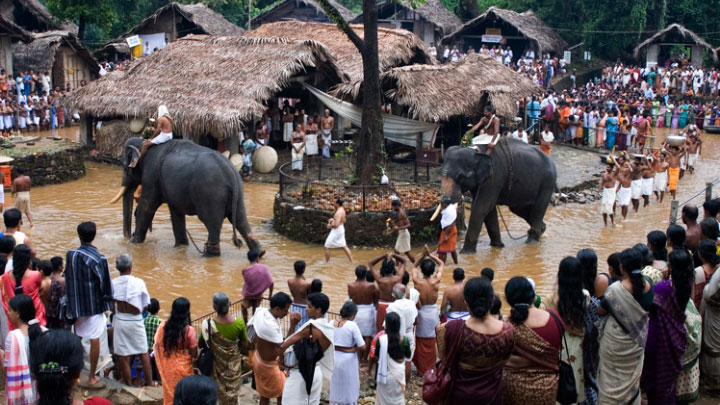 Venue: Kottiyoor temple
Location: Kottiyoor
District: Kannur
The Kottiyoor Vysakha Mahotsavam is a truly mesmerising festival held amidst dense forest with the lush greenery and the gorgeous River Baveli forming a stunning backdrop. This twenty-eight day long festival in Kannur is conducted by two temples, Akkara Kottiyoor and Ikkara Kottiyoor situated on the banks of the River Baveli.

The Akkara Kottiyoor Temple serves as the venue for the festival and is opened only during the festival days. The deity here is believed to be a swayambhoo lingam (self-created idol of Lord Shiva) and the temple is noted for its absence of a formal structure. Here the deity is placed on a raised platform made of river stones named manithara.

The religious rituals and ceremonies are performed in thatched huts. The festival commences with the Neyyattam (pouring of ghee) ritual which is attended by hundreds of devotees. The celebrations start with the bringing of a sword from Muthirerikavu in Wayanad. An intriguing aspect of the festival is the Rohini Aaradhana where the priest embraces the swayambhoo Shiva linga as part of the ritual.

One of the main ritualistic programs in this festival is Elaneer Vayppu in which tender coconut brought by the devotees is offered before the swayambhoo lingam. The festival concludes with Elaneerattam in which the collected tender coconut water is poured on the idol by the head priest.
Getting there
Nearest railway station:
Thalassery, about 65 km
Nearest airport:
Karipur International Airport, about 160 km
Disclaimer
In Kerala, festival dates are decided in accordance with the Malayalam calendar and the local traditions and customs. We have calculated the festival dates based on these. But there can be changes in the dates according the customs and rituals associated with each place of worship. As such, these should be considered only as approximate dates and have to be confirmed with the local authorities.