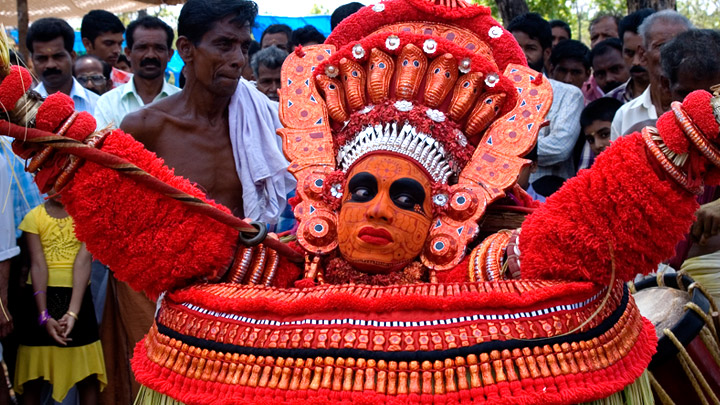 Start date: 23-02-2018
End date: 26-02-2018
Venue: Kuttikkol Thampuratty Bhagavathy Temple
Location: Kuttikkol
District: Kasaragod
This grand festival at Kuttikkol Thampuratty Bhagavathy Temple celebrates the Kerala artform, theyyam. This spectacular theyyam festival is a well attended event as several major theyyam forms are performed. With its vibrant display of colours and its impressive pageantry, the festival sets itself apart from the rest.
Getting there
Nearest railway station:
Kasaragod, about 28 km
Nearest airport:
Mangalore (in Karnataka State), about 50 km
Disclaimer
In Kerala, festival dates are decided in accordance with the Malayalam calendar and the local traditions and customs. We have calculated the festival dates based on these. But there can be changes in the dates according the customs and rituals associated with each place of worship. As such, these should be considered only as approximate dates and have to be confirmed with the local authorities.