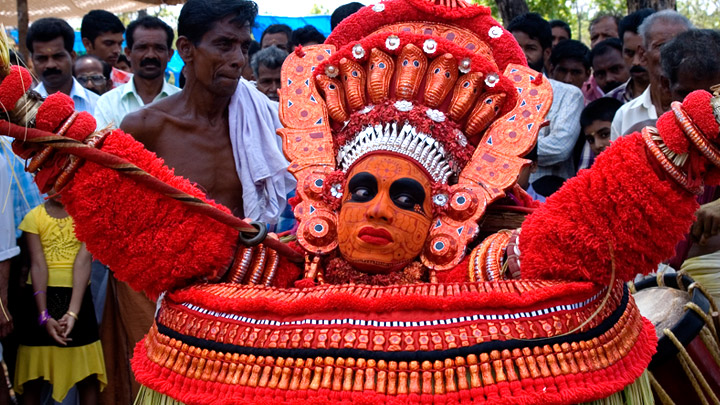 Venue: Kuttikkol Thampuratty Bhagavathy Temple
Location: Kuttikkol
District: Kasaragod
Annually, the Kuttikkol Thampuratty Bhagavathy Temple is the site for one of the grandest Theyyam festivals in all of Kerala. One gets to see a plethora of performances throughout the entire festival, with some of the best varieties of Theyyam such as Elayoor Theyyam, Chamundi Theyyam, Panchoorla Theyyam and Muthor Theyyam on display throughout this time period. The revelry, pageantry and sheer festive vibe in the entire place makes it a carnival that attracts people from across the world.
Getting there
Nearest railway station:
Kasaragod, about 28 km
Nearest airport:
Mangalore (in Karnataka State), about 50 km
Disclaimer
In Kerala, festival dates are decided in accordance with the Malayalam calendar and the local traditions and customs. We have calculated the festival dates based on these. But there can be changes in the dates according the customs and rituals associated with each place of worship. As such, these should be considered only as approximate dates and have to be confirmed with the local authorities.