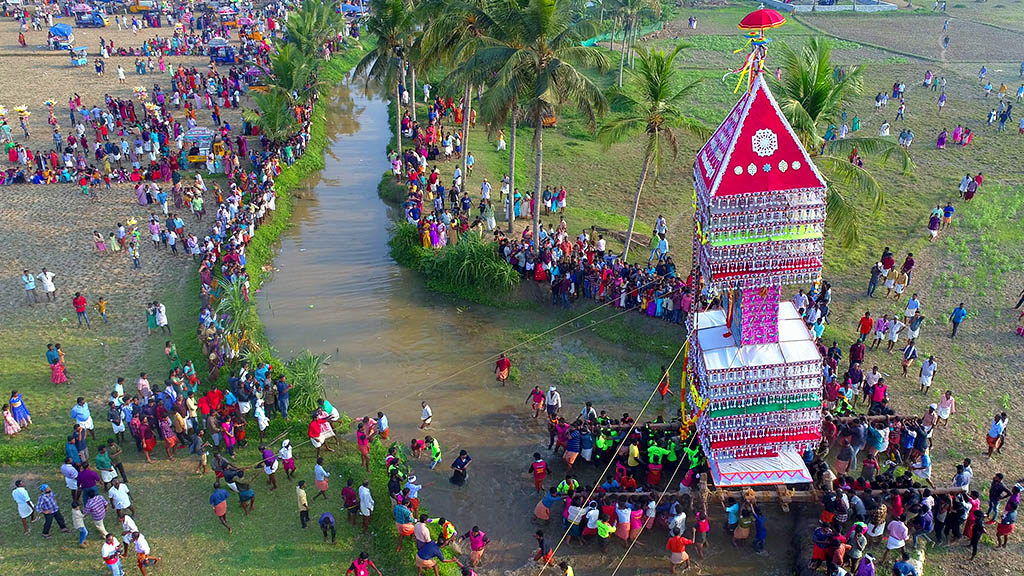 Venue: Poruvazhi Malanada Temple
District: Kollam
Most say history favours the victor at all times, but at the Poruvazhi Malanada Temple in Adoor, one sees the absolute opposite come to life and the antagonist is revered. Duryodhana, considered a villain in the Indian epic Mahabharata, is the mythical figure worshipped in this Temple, which also stands out for the absence of an idol or a sanctum sanctorum.

Annually in March, the Temple premises come to life during its vibrant temple festival, the highlight of which is the spectacular Malanada Kettukazcha event. Also known by the name Poruvizhi Peruviruthi Malanada Malakkuda Utsavam, up to 70 to 80 ft. tall and exquisitely designed structures called Edupu Kala and Edupu Kuthira are seen leading massive processions, with traditional percussion instruments providing the perfect accompanying orchestra. Large crowds gather to either carry the structures on their shoulders or see them placed on gigantic chariots, in a show revelry that matches just about any across God's Own Country. Cultural programs run throughout the night, with Kathakali based on the story 'Nizhalkuthu' being among the highlights of the entire event. 
Disclaimer
In Kerala, festival dates are decided in accordance with the Malayalam calendar and the local traditions and customs. We have calculated the festival dates based on these. But there can be changes in the dates according the customs and rituals associated with each place of worship. As such, these should be considered only as approximate dates and have to be confirmed with the local authorities.