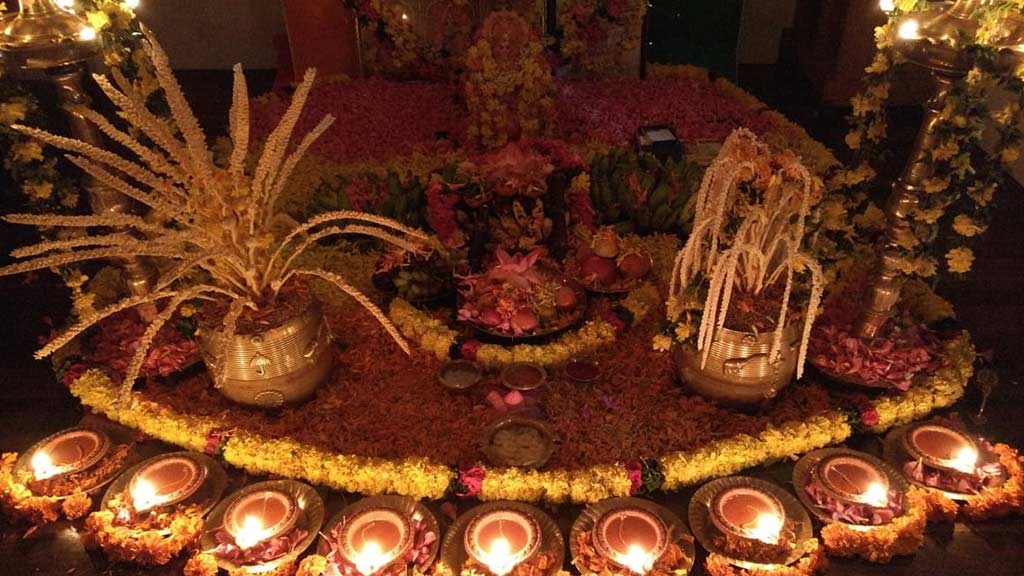 Start date: 15-10-2023
End date: 24-10-2023
Venue: All over Kerala
All over Kerala
Navarathri or Nine Nights is a multifaceted festival celebrated across the State annually. Typically falling in either September or October, these 9 days are reserved for the special worship of the nine forms of Goddess Shakti / Devi. The final three days of Navarathri – Durgashtami, Mahanavami and Vijayadashami are set apart for the worship of Goddess Saraswati – the Goddess of wisdom and learning. Followers worship their work tools by keeping them in the pooja (worship) room and temples. Students at this time keep their books and other study materials in the pooja room and temples for worship. This unique practice is known as Ayudha Pooja (worshipping of vocational tools). 

On Vijayadashami day, Keralites have their own special tradition. Words symbolising the name of God are written on the tongue of the child with a golden ring. The child is also made to write letters on a plate of rice with the help of elders. This practice is meant to introduce them to the world of knowledge and letters and is known as Vidyarambham. Ceremonies are performed in many places across the State to mark these festivities. Some of the important destinations for the same include Panachikkadu Saraswati Temple in Kottayam and Thunchan Parambu in Malappuram, Attukal Bhagavathy Temple in Thiruvananthapuram, Guruvayur Sree Krishna Temple in Thrissur and Chottanikkara Devi Temple in Ernakulam.
Disclaimer
In Kerala, festival dates are decided in accordance with the Malayalam calendar and the local traditions and customs. We have calculated the festival dates based on these. But there can be changes in the dates according the customs and rituals associated with each place of worship. As such, these should be considered only as approximate dates and have to be confirmed with the local authorities.