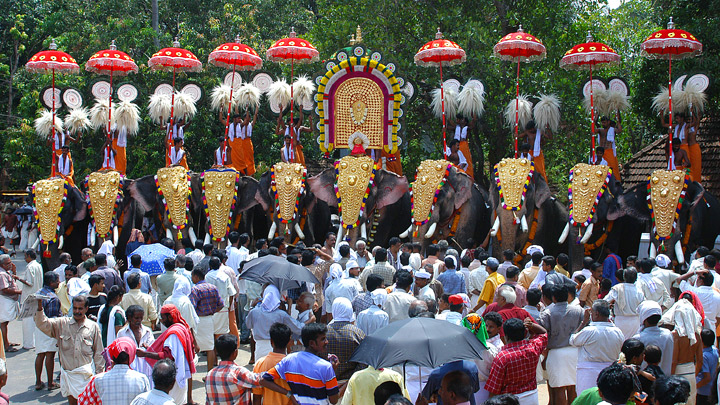 Venue: Nellikulangara Bhagavathy temple
Location: Nemmara
District: Palakkad
A festival celebrated annually in the Nellikulangara Bhagavathy Temple in Palakkad, Nenmara Vallangi Vela has everything a quintessential festival enthusiast looks for- a spectacular display of colours, art forms, fireworks and to top it all, there is intense competition as well.
Organised by two geographic divisions or deshams, namely Nenmara and Vallangi, the festival is celebrated in the aftermath of the season. The friendly duel between these two neighbouring villages makes the festival all the more captivating and grand as they compete to outdo each other in all ceremonies.
The festival offers a unique opportunity to witness the grandeur of folk art forms such as Kummatti, Karivela and Andivela. On the twentieth day of the festival, magnificent processions with caparisoned elephants are taken out from the two villages to the Nellikulangara Temple.
As soon as the procession reaches the temple, the two deshams present panchavadyam (the traditional Kerala orchestra). The villagers of these two deshams stand facing each other beneath the utsavapandal (festival marquee) and perform several traditional percussion ensembles in a bid to outshine each other. Another element of fancy here is the Aana Pandal, or elephant pavilion, an arch-like ornate structure illuminated by multi-coloured electric lights which is erected to accommodate the caparisoned elephants.
Getting there
Nearest railway station:
Palakkad Town, about 27 km
Nearest airport:
Coimbatore in the neighbouring state of Tamil Nadu, about 55 km from Palakkad
Disclaimer
In Kerala, festival dates are decided in accordance with the Malayalam calendar and the local traditions and customs. We have calculated the festival dates based on these. But there can be changes in the dates according the customs and rituals associated with each place of worship. As such, these should be considered only as approximate dates and have to be confirmed with the local authorities.