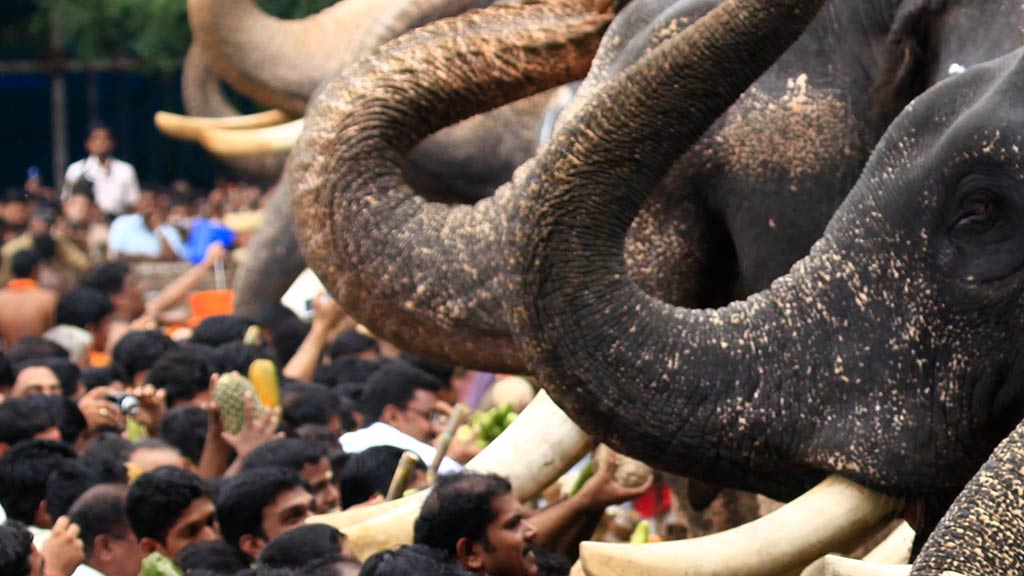 Venue: Njangattiri Bhagavathi Temple
District: Palakkad
A grand ceremony wherein a special feast is prepared for the elephants, the Njangattiri Aanayoottu ritual is held in the Njangattiri Bhagavathi Temple at Pattambi in the Palakkad district. In the Aanayoottu (Aanayoottu meaning feeding of elephants) ceremony, the elephants are fed specially medicated food. The ceremony is based on the principles of Ayurveda which consider the Malayalam month of Karkkidakam as a month of rejuvenation. Accordingly, this Ayurvedic tradition of rejuvenation is extended towards Elephants as well.

During this festival, the elephants are lined up in a row in the temple premises and are offered delicious and healthy food.  The special feast of elephants is prepared by following ayurvedic principles. Being a sacred animal, feeding elephants is also considered auspicious according to Hindu mythology and culture. Scores of people throng the temple premises to feed the elephants.
Disclaimer
In Kerala, festival dates are decided in accordance with the Malayalam calendar and the local traditions and customs. We have calculated the festival dates based on these. But there can be changes in the dates according the customs and rituals associated with each place of worship. As such, these should be considered only as approximate dates and have to be confirmed with the local authorities.