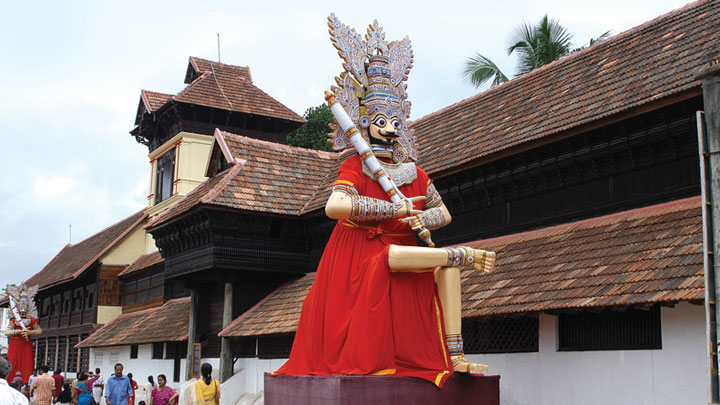 Start date: 23-03-2018
End date: 31-03-2018
Venue: Sree Padmanabha Swamy Temple
Location: East Fort
District: Thiruvananthapuram
Sree Padmanabha Swamy Temple with its rich history is one among the most famous temples in India. A major festival at this temple which sees huge participation of devotees from across the state is the Painkuni Festival. Painkuni is a ten-day festival in which special rituals are offered every day.
The festival is a visual delight where in colossal figurines are set up. These huge fibre glass figures of the Pandavas (the five sons of Pandu in the Indian epic Mahabharata) are placed at the eastern entrance to the temple. It is held that these figurines are set up in order to propitiate Indra, the Rain God.
The festival starts with kodiyettu, which is the hoisting of the ceremonial flag. The ninth day has the head of the Travancore Royal Family performing the palli vetta (royal hunt) ritual, near the Vettakorumakan Temple in the Fort area. The arattu (holy bath) ceremony of the idols in the sea at the Shanghumugham Beach marks the end of the festivities.
The head of the royal family of erstwhile Travancore will lead the procession for the arattu carrying the ceremonial sword and wearing the traditional green cap. The male members of royal family of Travancore will escort the deities in the procession and devotees line up to offer their prayers to the deities. The idols are then taken back to the temple.
Getting there
Nearest railway station:
Thiruvananthapuram Central, about 1 km  
Nearest airport:
Trivandrum International Airport, about 6 km
Disclaimer
In Kerala, festival dates are decided in accordance with the Malayalam calendar and the local traditions and customs. We have calculated the festival dates based on these. But there can be changes in the dates according the customs and rituals associated with each place of worship. As such, these should be considered only as approximate dates and have to be confirmed with the local authorities.