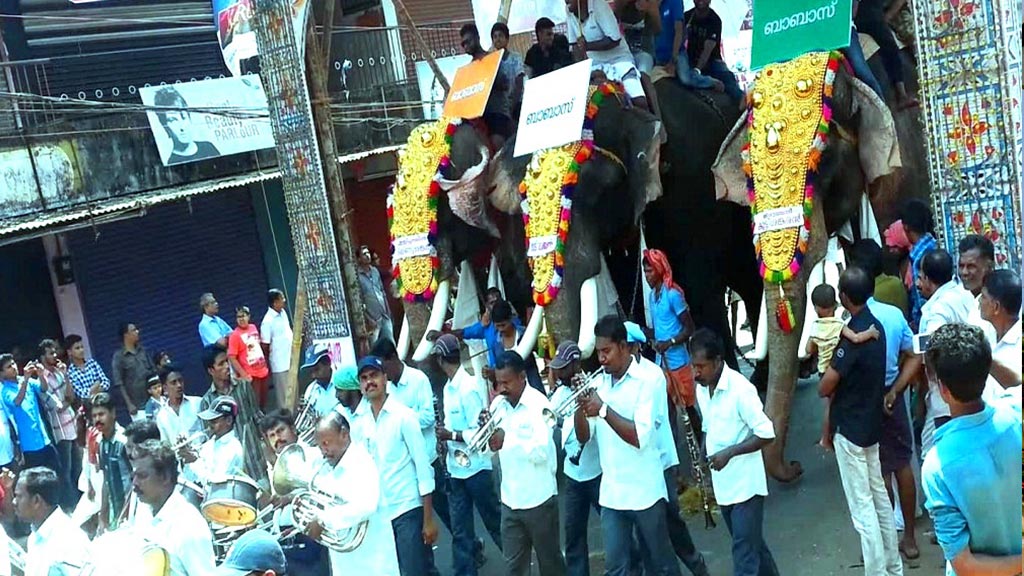 Venue: Pattambi Mosque
Location: Pattambi
District: Palakkad
The annual feast at the Pattambi Mosque, the Pattambi Nercha, is a grand event which sees a spectacular display of colours and sounds. The entire town gets soaked in myriad hues during the festive occasion which is held in the memory of Aloor Valiya Pookunjikoya Thangal, a Muslim saint from the Malabar region. The entire town comes alive bejewelled in lights and colours. Caparisoned elephants are made to join the procession to the accompaniment of colourful tableaus and traditional orchestra like the Panchavadyam and Thayambaka. Several folk art forms are showcased and add to the vibrancy of the procession which winds up in the evening on the banks of the River Bharathapuzha.
Getting there
Nearest railway station:
 Pattambi, walking distance from the mosque.
Nearest airport:
Coimbatore, in the neighbouring state of Tamil Nadu, about 55 km from Palakkad.
Disclaimer
In Kerala, festival dates are decided in accordance with the Malayalam calendar and the local traditions and customs. We have calculated the festival dates based on these. But there can be changes in the dates according the customs and rituals associated with each place of worship. As such, these should be considered only as approximate dates and have to be confirmed with the local authorities.