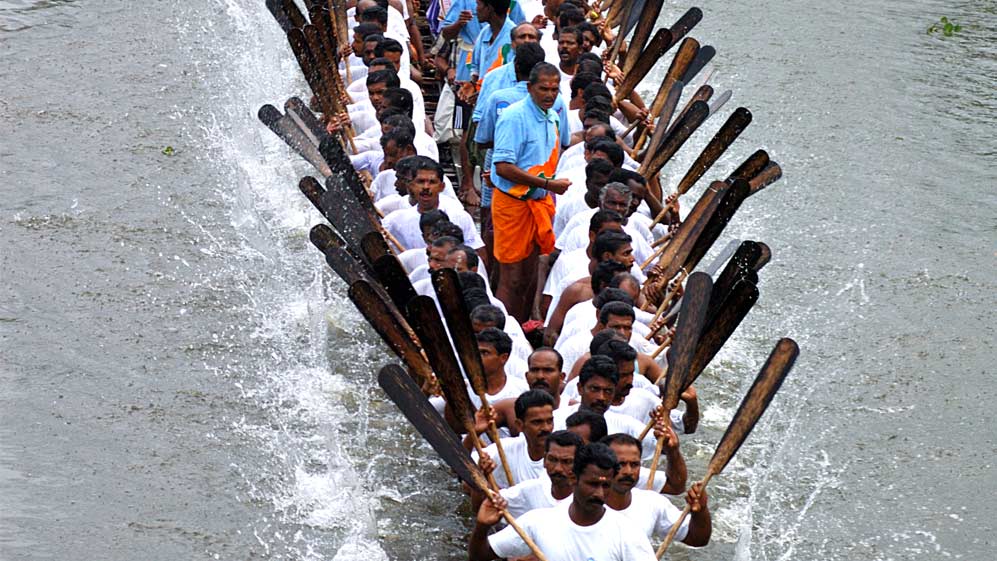 Venue: River Pamba
District: Alappuzha
Every year, the placid waters of the River Pamba plays host to a magnificent feat- the Uthradam Thirunal Pamba Boat Race.
Held during Uthradam, one of the most auspicious days of Onam (the harvest festival of Kerala), the boat race enjoys a wide participation with locals and tourists thronging the banks of the river and egging on the rowers with much fervour.
This grand water regatta unleashes such a visual splendour that travellers arrive in large numbers from far and wide to watch this glorious spectacle. The serene waters of the River Pamba at Neerettupuram in Alappuzha is transformed into a race track as majestic snake boats slice through the waters to the rhythmic notes of the boat songs.
The water sport witnesses a participation of more than 100 oarsmen in snake boats. The oarsmen chant the vanchipaattu (boat songs) and beat their oars on the waters in unison to propel their boats to the finishing point. The rowers compete with all their vigour to bag the prestigious K.C. Mammen Mappillai Trophy.
Disclaimer
In Kerala, festival dates are decided in accordance with the Malayalam calendar and the local traditions and customs. We have calculated the festival dates based on these. But there can be changes in the dates according the customs and rituals associated with each place of worship. As such, these should be considered only as approximate dates and have to be confirmed with the local authorities.