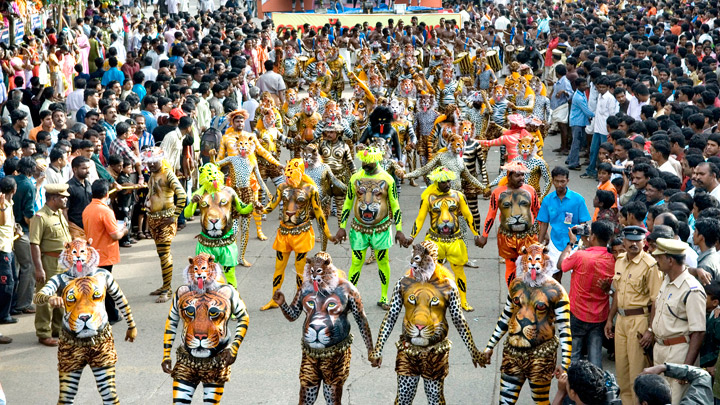 Event date: 28-09-2018
Venue: Swaraj Round, Thrissur
Location: Swaraj Round
District: Thrissur
Come Onam and the Swaraj Round in Thrissur district becomes a hunting ground teeming with prowling tigers and wily hunters. Each tiger has its ferocity writ large on their faces as well as on their bellies. Yes, bellies, for these are not the four-legged tigers you would come across in the wild. Rather, they are all men with their bodies painted as that of tigers with life like vividness. Pulikali (the play of the tigers) is an event that has become synonymous with the festival of Onam in Kerala.
Apart from the true colours of a tiger, one would also come across other colours and patterns and even the facial features of lions on the bodies of the performers. The finesse with which the makeup is done with paints is awe inspiring.
With the performance being centered on playing hide-and-seek with a hunter wielding a gun, the event is exciting and fun for both the performers and the onlookers. To say the least, it is a riot of fiery colours that is a feast to the eyes.
Getting there
Nearest railway station:
Thrissur, about a kilometer
Nearest airport:
Cochin International Airport, about 58 km from Thrissur.
Disclaimer
In Kerala, festival dates are decided in accordance with the Malayalam calendar and the local traditions and customs. We have calculated the festival dates based on these. But there can be changes in the dates according the customs and rituals associated with each place of worship. As such, these should be considered only as approximate dates and have to be confirmed with the local authorities.